CFDC plans for
21st May 1976
Page 9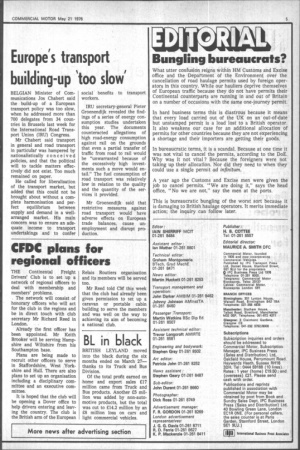 Page 9, 21st May 1976 —
CFDC plans for
Close
Keywords :
regional officers
THE Continental Freight Drivers Club is to set up a network of regional officers to deal with membership and members' problems.
The network will consist of honorary officers who will act for the club in the regions and be in direct touch with club secretary Mr Richard Reed in London.
Already the first officer has been appointed. Mr Keith Brooker will be serving Hampshire and Wiltshire from his Southampton base.
Plans are being made to recruit other officers to serve in Staffordshire, West Yorkshire and Hull. There are also plans to set up an organisation including a disciplinary committee and an executive committee.
It is hoped that the club will be opening a Dover office to help drivers entering and leaving the country. The club is the British arm of the European Relais Routiers organisation and its members will be served too.
Mr Reed told CM this week that the club had already been given permission to set up a caravan or portable cabin building to serve the members and was well on the way to achieving its aim of becoming a national club.