Permits probe question for Minister
21st May 1976
Page 8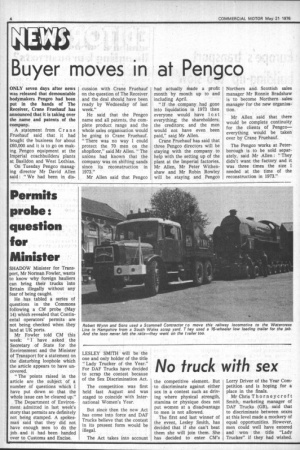 Page 8, 21st May 1976 —
Permits probe question for Minister
Close
SHADOW Minister for Transport, Mr Norman Fowler, wants to know why foreign hauliers can bring their trucks into Britain illegally without any fear of being caught.
He has tabled a series of questions in the Commons following a CM probe (May 14) which revealed that Continental operators' permits are not being checked when they land at UK ports.
Mr Fowler told CM this week: " I have asked the Secretary of State for the Environment and the Minister of Transport for a statement on the disturbing loophole which the article appears to have uncovered.
"The points raised in the article are the subject of a number of questions which I have put down so that the whole issue can be cleared up."
The Department of Environment admitted in last week's story that permits are definitely not being stamped. A spokesman said that they did not have enough men to do the job and it had been handed over to Customs and Excise. LESLEY SMITH will be the one and only holder of the title "Lady Trucker of the Year." For DAF Trucks have decided to scrap the contest because of the Sex Discrimination Act.
The competition was first held last August and was staged to coincide with International Women's Year.
But since then the new Act has come into force and DAF Trucks believe that the contest in its present form would be illegal.
The Act takes into account