Buyer moves i n at Pengco ONLY seven days after news
21st May 1976
Page 8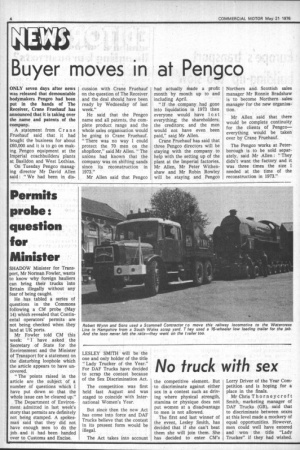 Page 8, 21st May 1976 —
Buyer moves i n at Pengco ONLY seven days after news
Close
was released that demountable bodymakers Pengco had been put in the hands of The Receiver, Crane Fruehauf has announced that it is taking over the name and patents of the company.
A statement from Crane Fruehauf said that it had bought the business for about £60,000 and it is to go on making Pengco equipment at the Imperial coachbuilders plants at Basildon and West Lothian.
On Tuesday Pengco managing director Mr David Allen said : "We had been in dis cussion with Crane Fruehauf on the question of The Receiver and the deal should have been ready by Wednesday of last week."
He said that the Pengco name and all patents, the complete product range and the whole sales organisation would be going to Crane Fruehauf. "There was no way I could protect the 70 men on the shopfloor," said Mr Allen. "The unions had known that the company was on shifting sands since its reconstruction in 1973."
Mr Allen said that Pengco had actually made a profit month by month up to and including April.
"If the company had gone into liquidation in 1973 then everyone would have lost everything; the shareholders; the creditors; and the men would not have even been paid," said Mr Allen.
Crane Fruehauf has said that three Pengco directors will be staying with the company to help with the setting up of the plant at the Imperial factories. Mr Allen, Mr Peter Withenshaw and Mr Robin Rowley will be staying and Pengco Northern and Scottish sales manager Mr Ronnie Bradshaw is to become Northern sales manager for the new organisation.
Mr Allen said that there would be complete continuity for the clients of Pengcoeverything would be taken over by Crane Fruehauf.
The Pengco works at Peterborough is to be sold separately, said Mr Allen : "They didn't want the factory and it was three times the size I needed at the time of the reconstruction in 1973."