I have been offered a regular summer job which involves
21st May 1976
Page 54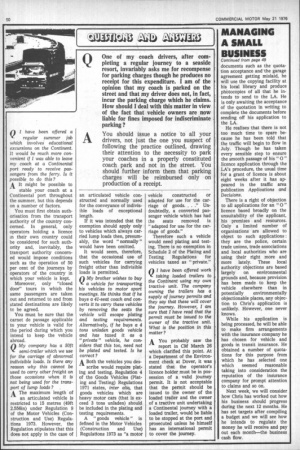 Page 54, 21st May 1976 —
I have been offered a regular summer job which involves
Close
educational excursions on the Continent. It would be much more convenient if I was able to leave my coach at a Continental port ready to receive passengers from the ferry. Is it possible . to do this?
A It might be possible to stable your coach at a Continental port throughout the summer, but this depends on a number of factors.
You must first obtain authorisation from the transport authority of the country concerned. In general, only operators holding a licence in their own country could be considered for such authority and, inevitably, the transport authority concerned would impose conditions such as the operation of 50 per cent of the journeys by operators of the country in which your vehicle is kept.
Moreover, only "closed door" tours in which the same passengers are taken out and returned to and from stated destinations are likely to be agreed.
You must be sure that the carnet de passage applicable to your vehicle is valid for the period during which you intend to keep the vehicle abroad.
QMy company has a 50ft semi-trailer which we use for the carriage of abnormal indivisible loads. Is there any reason why this cannot be used to carry other freight on those occasions when it is not being used for the transport of lump loads? A The maximum length of an articulated vehicle is restricted to 15 metres (49ft 2.556in) under Regulation 9 of the Motor Vehicles (Construction and Use) Regulations 1973. However, the Regulation stipulates that this does-not apply in the case of an articulated vehicle constructed and normally used for the conveyance of indivisible loads of exceptional length.
If it was intended that the exemption should apply only to vehicles which always carried lump loads then, presumably, the word " normally " would have been omitted.
It would seem, therefore, that the occasional use of such vehicles for carrying freight other than indivisible loads is permitted.
QMy brother wishes to buy a vehicle for transporting his vehicles to motor sport meetings. He thinks that if he buys a 4I-seat coach and converts it to carry these vehicles by removing the seats the vehicle will escape plating and testing requirements. Alternatively, if he buys a 4 tons unladen goods vehicle and has taxed it as a "private" vehicle, he considers that this too, need not be plated and tested. Is he correct ? A Both the vehicles you des scribe would require plating and testing. Regulation 4 of the Goods Vehicles (Plating and Testing) Regulations 1971 states, inter alia, that goods vehicles which are heavy motor cars (that is exceed 3 tons unladen) should be included in the plating and testing requirements.
A "goods vehicle" is Jefined in the Motor Vehicles (Construction and Use) Regulations 1973 as "a motor vehicle constructed or adapted for use for the carriage of goods. . . ." Undoubtedly, a converted passenger vehicle which has had r.he seats removed is " adapted for use for the carriage of goods."
Therefore such a vehicle would need plating and testing. There is no exemption in Schedule 2 of the Plating and Testing Regulations for vehicles taxed as "private."