Members at the BAR discuss bulk buying
21st May 1976
Page 51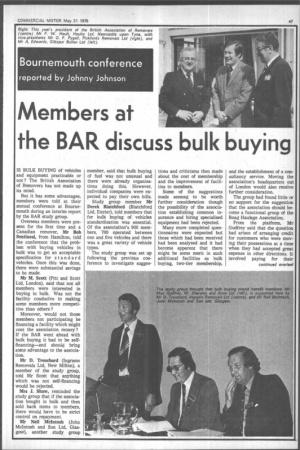 Page 52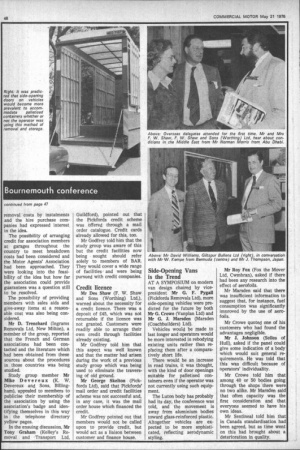 Page 51, 21st May 1976 —
Members at the BAR discuss bulk buying
Close
IS BULK BUYING of vehicles and equipment practicable or not ? The British Association of Removers has not made up its mind.
But it has some advantages, members were told at their annual conference at Bournemouth during an interim report by the BAR study group.
Overseas members were present for the first time and a Canadian remover, Mr Bob Sentineal, from Hamilton, told the conference that the problem with buying vehicles in bulk was to get an acceptable specification for standard vehicles. Once this was done, there were substantial savings to be made.
Mr M. Scott (Pitt and Scott Ltd, London), said that not all members were interested in buying in bulk. Was not the facility conducive to making some members more competitive than others ?
Moreover, would not those members not participating be financing a facility which might cost the association money ? If the BAR went ahead with bulk buying it had to be selffinancing—and should bring some advantage to the association.
Mr D. Trenchard (Ingrams Removals Ltd, New Milton), a member of the study group, told Mr Scott that anything which was not self-financing would be rejected.
Mrs J. Shaw, reminded the study group that if the association bought in bulk and then sold back items to members, there would have to be strict control on repayment.
Mr Neil McIntosh (John McIntosh and Son Ltd, Glasgow), another study group member, said that bulk buying of fuel was not unusual and there were already organisations doing this. However, individual companies were expected to pay their own bills.
Study group member Mr Derek Blatchford (Blatchford Ltd, Exeter), told members that for bulk buying of vehicles standardisation was essential. Of the association's 900 members, 700 operated between one and five vehicles and there was a great variety of vehicle types.
The study group was set up following the previous conference to investigate sugges tions and criticisms then made about the cost of membership and the improvement of facilities to members.
Some of the suggestions made seemed to be worth further consideration though the possibility of the association establishing common insurance and hiring specialised equipment had been rejected.
Many more completed questionnaires were expected but those which had been received had been analysed and it had become apparent that there might be some merit in such additional facilities as bulk buying, two-tier membership, and the establishment of a consultancy service. Moving the association's headquarters out of London would also receive further consideration.
The group had found little or no support for the suggestion that the association should become a functional group of the Road Haulage Association.
From the platform, Mr Godfrey said that the question had arisen of arranging credit for customers who were moving their possessions at a time when they had accepted great expense in other directions. It involved paying for their removal costs by instalments and the hire purchase companies had expressed interest in the idea.
The possibility of arranging credit for association members at garages throughout the country to meet breakdown costs had been considered and the Motor Agents' Association had been approached. They were looking into the feasibility of the idea but how far the association could provide guarantees was a question still to be resolved.
The possibility of providing members with sales aids and give-away items at a reasonable cost was also being considered.
Mr D. Trenchard (Ingrams Removals Ltd, New Milton), a member of the group, reported that the French and German associations had been contacted and the literature which had been obtained from these sources about the procedures in those countries was being studied.
Study group member Mr Mike Devereux (K. W. Devereux and Sons, Billingham), appealed to members to publicise their membership of the association by using the association's badge and identifying themselves in this way in the telephone directory yellow pages.
In the ensuing discussion, Mr Tony Graham (Kelley's Removal and Transport Ltd, Guildford), pointed out that the Pickfords credit scheme was offered through a mail order catalogue. Credit cards already allowed for this, too.
Mr Godfrey told him that the study group was aware of this but the credit facilities now being sought should refer solely to members of BAR. They would cover a wide range of facilities and were being pursued with credit companies.
Credit licence
Mr Des Shaw (F. W. Shaw and Sons (Worthing) Ltd,), warned about the necessity for a credit licence. There was a deposit of £45, which was not returnable if the licence was not granted. Customers were readily able to arrange their own credit through facilities already existing.
Mr Godfrey told him that this aspect was well known and that the matter had arisen during the work of a previous study group which was being used to eliminate the traversing of old ground.
Mr George Skelton (Pickfords Ltd), said that Pickfords' mail order and credit facilities scheme was not successful and, in any case, it was the mail order house which financed the credit.
Mr Godfrey pointed out that members would not be called upon to provide credit, but would act as a liaison between customer and finance house.
Side-Opening Vans is the Trend
AT A SYMPOSIUM on modern van design chaired by vicepresident Mr G. F. Pygall (Pickfords Removals Ltd), more side-opening vehicles were predicted for the future by both Mr G. Crowe (Vanplan Ltd) and Mr G. J. Marsden (Marsden (Coachbuilders) Ltd).
Vehicles would be made to last longer and operators would be more interested in rebodying existing units rather than repacing them after a comparatively short life.
There would be an increase in road trains, it was thought, with the kind of door openings suitable for palletised containers even if the operator was not currently using such equipment.
The Luton body has probably had its day, the conference was told, and the movement is away from aluminium bodies toward glass-reinforced plastic. Altogether vehicles are expected to be more sophisticated, reflecting aerodynamic styling. Mr Roy Fox (Fox the Mover Ltd, Cwmbran), asked if there had been any research into the effect of aerofoils.
Mr Marsden said that there was insufficient information to suggest that, for instance, fuel consumption was significantly improved by the use of aerofoils.
Mr Crowe quoted one of his customers who had found the advantages negligible.
Mr J. Johnson (SeIles of Hull), asked if the panel could give some indication of a body which would suit general requirements. He was told that this was difficult because of operators' individuality.
Mr Crowe told him that among 40 or 50 bodies going through the shops there were no two alike. Mr Marsden said that often capacity was the first consideration and that everyone seemed to have his own ideas.
Mr Sentineal told him that in Canada standardisation had been agreed, but as time went on this had brought about a deterioration in quality.
Tags
People
:
J. Shaw
,
Tony Graham
,
Roy Fox
,
Mike Devereux
,
Hamilton
,
D. Trenchard
,
George Skelton
,
G. F. Pygall
,
Godfrey
,
M. Scott
,
J. Johnson
,
Derek Blatchford
,
G. J. Marsden
,
G. Crowe
,
Des Shaw
,
Neil McIntosh
,
Bob Sentineal