Down the owner-driver
21st May 1976
Page 46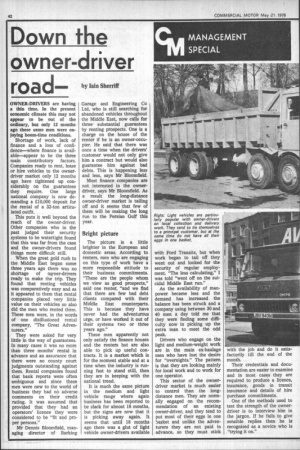 Page 47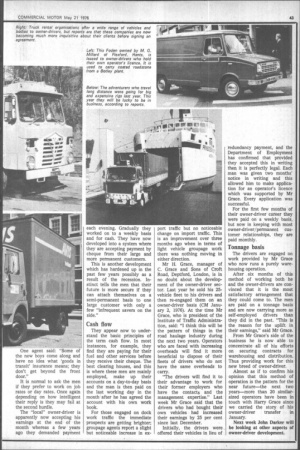 Page 46, 21st May 1976 —
Down the owner-driver
Close
road-by kin Sherriff OWNER-DRIVERS are having a thin time. In the present economic climate this may not appear to be out of the ordinary, but only 12 months ago these same men were enjoying boom-time conditions.
Shortage of work, lack of finance and a loss of confidence—where finance is available—appear to be the three main contributory factors. Companies ready to rent, lease or hire vehicles to the ownerdriver market only 12 months ago have tightened up considerably on the guarantees they require. One large national company is now demanding a £10,000 deposit for the rental of a 32-ton articulated outfit.
This puts it well beyond the reach of the owner-driver. Other companies who in the past judged their security systems to be watertight found that this was far from the case and the owner-drivers found things more difficult still.
When the great gold rush to the Middle East began some three years ago there was no shortage of owner-drivers ready to make the trip. They found that renting vehicles was comparatively easy and as it appeared to them that rental companies placed very little value on their vehicles so also did the men who rented them. These men were, in the words of one disillusioned rental company, "The Great Adventurers."
They were asked for very little in the way of guarantees. In many cases it was no more than three months' rental in advance and an assurance that there were no county court judgments outstanding against them. Rental companies found that bank reports were often ambiguous and since these men were new to the world of business they had no adverse comments on their credit rating. It was assumed that provided that they had an operators' licence they were considered to be "fit and proper persons."
Mr Dennis Bloomfield, managing director of Barking Garage and Engineering Co Ltd, who is still searching for abandoned vehicles throughout the Middle East, now calls for three substantial guarantees by renting prospects. One is a charge on the house of the renter if he is an owner-occupier. He said that there was once a time when the drivers' customer would not only give him a contract but would also guarantee him against bad debts. This is happening less and less, says Mr Bloomfield.
Most finance companies are not interested in the ownerdriver, says Mr Bloomfield. As a result the long-distance owner-driver market is tailing off and it seems that few of them will be making the long run to the Persian Gulf this year.
Bright picture
The picture is a little brighter in the European and domestic areas. According to renters, men who are engaging on this type of work have a more responsible attitude to their business commitments. "These are the people whom we view as good prospects," said one renter, "and we find that there are few bad debt clients compared with their Middle East counterparts. This is because they have never had the adventurous urge, or have worked it out of their systems two or three years ago."
These men apparently not only satisfy the finance houses and the renters but are also able to pick up useful contracts. It is a market which is for the moment stable and at a time when the industry is running fast to stand still, then they are in keeping with the national trend.
It is much the same picture in the medium and light vehicle range where again business has been reported to be slack for almost 18 months, but the signs are now that it is picking away again. It seems that until 18 months ago there was a glut of light vehicle owner-drivers available with Ford Transits, but when work began to tail off they went out and looked for the security of regular employment. "The less calculating," I was told "went off on the suicidal Middle East run."
As the availability of manpower became less and the demand has increased the balance has been struck and a company using between 30 and 40 men a day told me that they were finding some difficulty now in picking up the extra man to meet the odd peak.
Drivers who engage on the light and medium-weight work are in the main ex-haulage men who have lost the desire for "overnights." The pattern is that they are looking mainly for local work and to work for one operator.
This sector of the ownerdriver market is much easier to control than the longdistance men. They are normally engaged on the recommendation of an existing owner-driver, and they tend to put most of their eggs in one basket and unlike the adventurers they are not paid in advance, so they must stick with the job and do it satisfactorily till the end of the month.
Their credentials and documentation are easier to examine and in most cases they are required to produce a licence, insurance, goods in transit insurance and details of hire purchase commitments.
One of the methods used to test the strength of the ownerdriver is to interview him in the jargon. If he fails to give sensible replies then he is recognised as a novice who is "trying it on." One agent said: "Some of the new boys come along and have no idea what 'goods in transit' insurance means; they don't get beyond the front door."
It is normal to ask the men if they prefer to work on job rates or day rates. Once again depending on how intelligent their reply is they may fail at the second hurdle.
The "local" owner-driver is apparently now accepting his earnings at the end of the month whereas a few years ago they demanded payment each evening. Gradually they worked on to a weekly basis and for cash. They have now developed into a system where they are accepting payment by cheque from their large and more permanent customers.
This is another development which has hardened up in the past few years possibly as a result of the recession. Instinct tells the men that their future is more secure if they can attach themselves on a semi-permanent basis to one large customer with only a few "infrequent savers on the side."
Cash flow
They appear now to understand the basic principles of the term cash flow. In most instances, for example, they find they are paying for their fuel and other services before they receive their cheque. The best clearing houses, and this is where these men are mainly employed, make up their accounts on a day-to-day basis and the man is then paid on the last working day in the month after he has agreed the account with his own work book.
For those engaged on dock work traffic the immediate prospects are getting brighter; groupage agents report a slight but noticeable increase in ex port traffic but no noticeable change on import traffic. This is an improvement over three months ago when in terms of light vehicle groupage work there was nothing moving in either direction.
Mr H. Grace, manager of C. Grace and Sons of Croft Road, Deptford, London, is in no doubt about the development of the owner-driver sector. Last year he sold his 25vehicle fleet to his drivers and then re-engaged them on an owner-driver basis (CM January 2, 1976), At the time Mr Grace, who is president of the Institute of Traffic Administration, said: "I think this will be the pattern of things in the road haulage industry during the next two years. Operators who are faced with increasing overheads will find it more beneficial to dispose of their fleets of drivers who do not have the same overheads to carry.
"The drivers will find it to their advantage to work for their former employers who have the contacts and the management expertise." Last week Mr Grace said that the drivers who had bought their own vehicles had increased their earnings by 25 per cent since last December.
Initially, the drivers were offered their vehicles in lieu of redundancy payment, and the Department of Employment has confirmed that provided they accepted this in writing then it is perfectly legal. Each man was given two months' notice in writing and this allowed him to make application for an operator's licence which was supported by Mr Grace. Every application was successful.
For the first few months of their owner-driver career they were paid on a weekly basis, but now in keeping with most owner-driver/permanent customer relationships, they are paid monthly.
Tonnage basis
The drivers are engaged on work provided by Mr Grace who now runs a purely warehousing operation.
After six months of this method of working both he and the owner-drivers are convinced that it is the most satisfactory arrangement that they could come to. The men are paid on a tonnage basis and are now carrying more as self-employed drivers than they did in the past. "This is the reason for the uplift in their earnings," said Mr Grace.
From Mr Grace's side of the business he is now able to concentrate all of his efforts on securing contracts for warehousing and distribution. Thus providing work for this new breed of owner-driver.
Almost as if to confirm his opinion that this method of operation is the pattern for the near future—the next two years—more than 20 similarsized operators have been in touch with Harry Grace since we carried the story of his owner-driver transfer in January. Next week John Darker will be looking at other aspects of owner-driver development.