Pioneering at Nottingham
21st May 1976
Page 43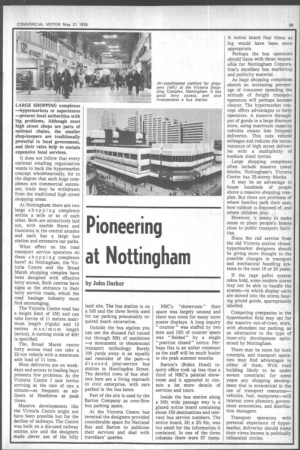 Page 43, 21st May 1976 —
Pioneering at Nottingham
Close
by John Darker
LARGE SHOPPING complexes —hypermarkets or superstores —present local authorities with big problems. Although most high street shops are parts of national chains, the smaller shop-keepers are traditionally powerful in local government, and their rates help to sustain expensive local services.
It does not follow that every national retailing organisation wants to back the hypermarket concept wholeheartedly, for to the degree that such huge complexes are commercial successes, trade may be withdrawn from the traditional high street shopping areas.
At Nottingham there are two large shopping complexes within a mile or so of each other. Both are attractively laid out, with marble floors and fountains in the central arcades and each has a large bus station and extensive car parks.
What effect on the road transport service operators do these shopping complexes have? At Nottingham, the Victoria Centre and the Broad Marsh shopping complex have been designed with effective lorry access, Both centres have signs at the entrance to their lorry service roads, which the road haulage industry must find encouraging.
The Victoria Centre road has a height limit of 15ft and can take lorries of 11 metres maximum length (rigids) and 13 metres maximum length (artics). A 'turning circle of 40ft is specified.
The Broad Marsh centre lorry access road can take a 32-ton vehicle with a maximum axle load of 11 tons.
Most deliveries are on weekdays and access to loading bays presents few problems. At the Victoria Centre I saw lorries arriving at the rate of one a minute—as frequent as airliners at Heathrow at peak times.
Massive developments like the Victoria Centre might not have been possible but for the decline of railways. The Centre was built on a dis-used railway station site and the designers made clever use of the hilly land site. The bus station is on a hill and the three levels used for car parking presumably required much excavation.
Outside the bus station you can see the disused rail tunnel cut through 50ft of sandstone —a monument to obsolescent transport technology. Barely 100 yards away is an equally sad reminder of the past—a disused joint-service bus station in Huntingdon Street. The derelict rows of bus shelters here are a living reproach to civic enterprise, with cars parked in the bus lanes.
Part of the site is used by the Barton Company as over-flow bus parking space.
At the Victoria Centre bus terminal the designers provided considerable space for National Bus and Barton to publicise their services and deal with travellers' queries. NBC's "showroom" floor space was largely unused and there was room for many more poster displays. A long inquiry " counter " was staffed by two men and 15ft of counter space was " fielded " by a single position closed" notice. Perhaps this is an unfair comment as the staff will be much busier in the peak summer months.
Barton's (Robin Hood) inquiry office took up less than a third of NBC's palatial showroom and it appeared to contain a lot more details of services and tours.
Inside the bus station along a 30ft wide passage way is a glazed notice board containing about 150 destinations and relevant bus service numbers. The notice board, 3ft x 2ft 9in, was too small for the information it contained. In one of the three columns there were 57 items. A notice board four times as big would have been more appropriate.
Perhaps the bus operators should liaise with those responsible for Nottingham Corporation's excellent bus marketing and publicity material.
As huge shopping complexes absorb an increasing percent age of consumer spending the attitude of freight transpon operators will perhaps become clearer. The hypermarket concept offers advantages to lorry operators. A massive through put of goods in a large discount store, using maximum capacity vehicles means less frequent deliveries. This cuts vehicle mileages and reduces the incon venience of high street deliveries with a multiplicity of medium sized lorries.
Large shopping complexes often include massive tower blocks; Nottingham's Victoria Centre has 25-storey blocks.
It may be an advantage to house hundreds of people above a massive shopping complex. But there are problems of where families park their cars, how rubbish is disposed of, and where children play.
However, it seems to make sense to place people's homes close to public transport facilities.
Since the rail service from the old Victoria station closed, hypermarket designers should be giving more thought to the possible changes in 'transport and mechanical handling systems in the next 10 or 20 years.
If the cage pallet system takes hold, some modern stores may not be able to handle the system—in which display units are moved into the stores bearing priced goods, appropriately labelled.
Competing companies in the hypermarket field may opt for the massive out-of-town store, with abundant car parking, as an alternative to the type of inner-city development epitomised by Nottingham.
There may be room for both concepts, and transport operators may find advantages in either of them. With road building likely to be under severe constraint for some years any shopping development that is economical in the use of transport resources— vehicles, fuel, manpower—will interest town planners, government economists, and distribution managers.
Transport operators with personal experience of hypermarket deliveries should make their views known in politically influential circles.