Silent men of Westminster
21st May 1976
Page 37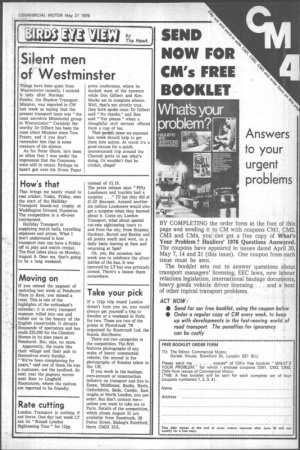 Page 37, 21st May 1976 —
Silent men of Westminster
Close
Things have been quiet from Westminster recently. I noticed it only after Norman Fowler, the Shadow Transport Minister, was reported in CM last week as saying that the present transport team was "the most secretive Ministerial group in Westminster." Certainly the worthy Dr Gilbert has been the most silent Minister since Tom Fraser, and if you don't remember him that is some measure of his silence.
As for Peter Shore, he's been so silent that I was under the impression that the Commons were still in recess. Perhaps he hasn't got over his Green Paper press conference, where he ducked most of the answers while Doc Gilbert and Ken Marks sat in complete silence. Well, that's not strictly true, they both spoke once: Dr Gilbert said "No thanks," and Ken said "Yes please " when a thoughtful civil servant offered them a cup of tea.
That permit mess we exposed last week should help to get them into action. At worst it's a good excuse for a quick, unannounced trip around the Channel ports to see what's doing. Or wouldn't that be cricket, chaps?