How's that
21st May 1976
Page 37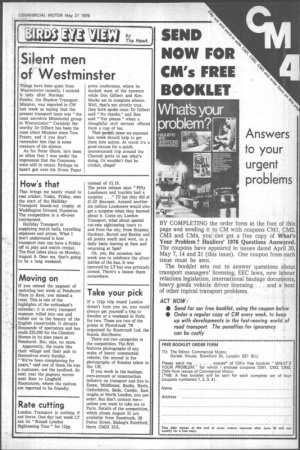 Page 37, 21st May 1976 —
How's that
Close
That brings me neatly round to real cricket. Today, Friday, sees the start of the Halliday Transport knock-out trophy at Weddington Ground, Nuneaton. The competition is a 45-over tournament.
Halliday Transport is supplying match balls, travelling expenses and prizes. What I don't understand is how transport men can have a Friday off to play and watch cricket. The final takes place on Monday, August 9. Dear me, that's going to be a long weekend. instead of £1.15.
The press release says "Fifty Londoners and tourists had a surprise . . ." I'll bet they did at £1.02 discount. Around another six million Londoners would also get a surprise when they learned about it. Come on, London Transport, what about special cut-rate sightseeing tours to and from the city, from Stepney, Hackney, Barnet and Bexley and all points south and west, on a daily basis leaving at 8arn and returning at 5pm?
Oh, yes, the occasion last week was to celebrate the silver jubilee of the bus. It was operated by LT but was privately owned. There's a lesson there somewhere.