Road transport gives air cargo a lift
21st May 1976
Page 28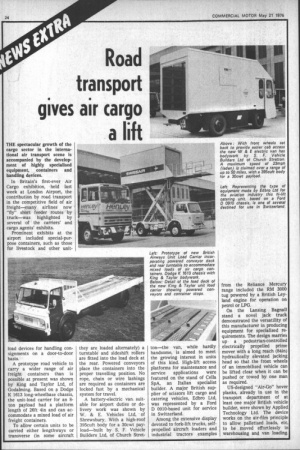 Page 28, 21st May 1976 —
Road transport gives air cargo a lift
Close
THE spectacular growth of the cargo sector in the international air transport scene is accompanied by the development of highly specialised equipment, containers and handling devices.
In Britain's first-ever Air Cargo exhibition, held last week at London Airport, the contribution by road transport in the competitive field of air freight—many airlines now "fly" short feeder routes by truck—was highlighted by several of the carriers' and cargo agents' exhibits.
Prominent exhibits at the airport included special-purpose containers, such as those for livestock and other unit load devices for handling consignments on a door-to-door basis.
A prototype road vehicle to carry a wider range of air freight containers than is possible at present was shown by King and Taylor Ltd, of Godalming. Based on a Dodge K 1613 long-wheelbase chassis, the unit-load carrier for an 8ton payload had a platform length of 26ft din and can accommodate a mixed load of air freight containers.
To allow certain units to be carried either lengthways or transverse (in some aircraft they are loaded alternately) a turntable and sideshift rollers are fitted into the load deck at the rear. Powered conveyors place the containers into the proper travelling position. No rope, chain or wire lashings are required as containers are locked fast by a mechanical system for travel.
A battery-electric van suitable for airport duties or delivery work was shown by W. & E. Vehicles Ltd, of Shrewsbury. With a high-roof 395cuft body for a 30cwt payload—built by S. F. Vehicle Builders Ltd, of Church Stret ton—the van, while hardly handsome, is aimed to meet the growing interest in units of this kind. High-lift access platforms for maintenance and service applications were featured on the stand of Cella SpA, an Italian specialist builder. A major British supplier of scissors lift cargo and catering vehicles, Edbro Ltd, was represented by a Ford D 0910-based unit for service in Switzerland.
Among the extensive display devoted to fork-lift trucks, selfpropelled aircraft loaders and industrial tractors examples from the Reliance Mercury range included the RM 3000 tug powered by a British Leyland engine for operation on petrol or LPG.
On the Lansing Bagnall stand a novel jack truck demonstrated the versatility of this manufacturer in producing equipment for specialised requirements. The design marries up a pedestrian-controlled electrically propelled prime mover with a long reach (84in) hydraulically elevated jacking head so that the front wheels of an immobilised vehicle can be lifted clear when it can be pushed or towed by one man as required.
US-designed "Air-Go" hover planks, already in use in the transport department of at least one major British vehicle builder, were shown by Applied Technology Ltd. The device works on the air-film principle to allow palletised loads, etc, to be moved effortlessly in warehousing and van loading.