Long haul to the top
21st May 1976
Page 27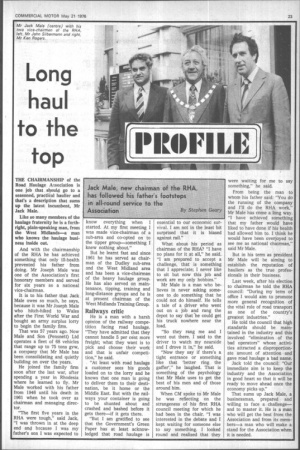 Page 27, 21st May 1976 —
Long haul to the top
Close
THE CHAIRMANSHIP of the Road Haulage Association is one job that should go to a seasoned, practical haulier and that's a description that sums up the latest incumbent, Mr Jack Male.
Like so many members of the haulage fraternity he is a forthright, plain-speaking man, from the West Midlands—a man who knows the haulage business inside out.
And with the chairmanship of the RHA he has achieved something that only ill-health prevented his father from doing. Mr Joseph Male was one of the Association's first honorary members and served for six years as a national vice-chairman.
It is to his father that Jack Male owes so much, he says, because it was Mr Joseph Male who hitch-hiked to Wales after the First World War and bought an army surplus lorry to begin the family firm.
That was 57 years ago. Now Male and Son (Pensnett) Ltd operates a fleet of 68 vehicles that range up to 75 tons gvw, a company that Mr Male has been consolidating and quietly building on over the years.
He joined the family firm soon after the last war, after spending a year in Rhodesia where he learned to fly. Mr Male worked with his father from 1946 until his death in 1961 when he took over as chairman and managing director.
"The first five years in the RHA were tough," said Jack, "I was thrown in at the deep end and because I was my father's son I was expected to know everything when I started. At my first meeting I was made vice-chairman of a sub-area and co-opted on to the tipper group—something I knew nothing about."
But he learnt fast and since 1961 he has served as chairman of the Dudley sub-area and the West Midland area and has been a vice-chairman of the heavy haulage group. He has also served on maintenance, tipping, training and long-distance groups and he is at present chairman of the West Midlands Training Group.
Railways critic
He is a man with a harsh opinion of the railway competition facing road haulage. "They have admitted that they cannot handle 5 per cent more freight; what they want is to pick and choose their work and that is unfair competition," he said.
"At least with road haulage a customer sees his goods loaded on to the lorry and he knows that one man is going to deliver them to their destination, be it home or the Middle East. But with the railways your container is going to be shunted about and crashed and bashed before it gets there—if it gets there.
"But I am gratified to see that the Government's Green Paper has at least acknowledged that road haulage is essential to our economic survival. I am not in the least bit surprised that it is biased against rail."
What about his period as chairman of the RHA? "I have no plans for it at all," he said. "I am prepared to accept a challenge, that is something that I appreciate; I never like to sit but now this job and work are my only hobbies."
Mr Male is a man who believes in never asking someone to do something that he could not do himself. He tells a tale of a driver who went out on a job and rang the depot to say that he could get his truck nowhere near the load.
"So they rang me and I went out there. I said to the driver to watch my nearside and I drove it in," he said.
"Now they say if there's a tight entrance or something like that 'better ring the gaffer'," he laughed. That is something of the psychology that Mr Male uses to get the best of his men and of those around him.
When CM spoke to Mr Male he was reflecting on the strangeness of his first RHA council meeting for which he had been in the chair. "I was interested in the debate and I kept waiting for someone else to say something. I looked round and realised that they were waiting for me to say something," he said.
From being the man to wnom his father said: "You do the running of the company and I'll do the RHA work," Mr Male has come a long way. "I have achieved something that my father would have liked to have done if his health had allowed him to. I think he would have been overjoyed to see me as national chairman," said Mr Male.
But in his term as president Mr Male will be aiming to establish the reputation of hauliers as the true professionals in their business.
Last week, after his election to chairman he told the RHA council: "During my term of office I would aim to promote more general recognition of the vital role of road transport as one of the country's greatest industries."
He told the council that high standards should be maintained in the industry and this involved "elimination of the bad operators" whose activities attracted a disproportionate amount of attention and gave road haulage a bad name.
Jack told the council: "Our immediate aim is to keep the industry and the Association in good heart so that it will be ready to move ahead once the economy picks up."
That sums up Jack Male, a businessman, prepared and willing to face a challenge— and to master it. He is a man who will get the best from the Association and from its members—a man who will make a stand for the Association when it is needed.