Biggest ever Load Lugger
21st May 1976
Page 26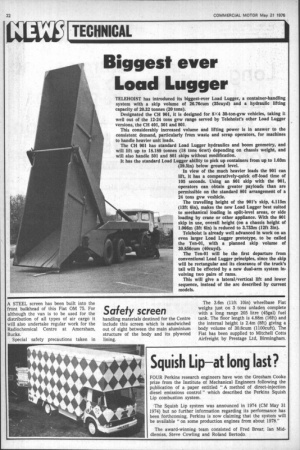 Page 26, 21st May 1976 —
Biggest ever Load Lugger
Close
TELEHO1ST has introduced its biggest-ever Load Lugger, a container-handling system with a skip volume of 26.76cum (35cuyd) and a hydraulic lifting capacity of 20.32 tonnes (20 tons).
Designated the CH 901, it is designed for 8X4 30-ton-gvw vehicles, taking it well out of the 12-24 tons gvw range served by Telehoist's other Load Lugger versions, the CH 401, 501 and 801.
This considerably increased volume and lifting power is in answer to the consistent demand, particularly from waste and scrap operators, for machines to handle heavier unit loads.
The CH 901 has standard Load Lugger hydraulics and boom geometry, and will lift up to 18.189 tonnes (18 tons 6cwt) depending on chassis weight, and will also handle 501 and 801 skips without modification.
It has the standard Load Lugger ability to pick up containers from up to 1.03m (39.5in) below ground level.
In view of the much heavier loads the 901 can lift, it has a comparatively-quick off-load time of 105 seconds. Using an 801 skip with the 901, operators can obtain greater payloads than are permissible on the standard 801 arrangement of a 24 tons gvw veshicle.
The travelling height of the 901's skip, 4.115m (13ft 6in), makes the new Load Lugger best suited to mechanical loading in split-level areas, or side loading by crane or other appliance. With the 801 skip in use, overall height (on a chassis height of 1.066m (3ft Gin) is reduced to 3.733m (12ft 3in).
Telehoist is already well advanced in work on an even larger Load Lugger prototype, to be called the Ten-01, with a planned skip volume of 30.856cum (40cuyd).
The Ten-01 will be the first departure from conventional Load Lugger principles, since the skip will be rectangular and its clearance of the truck's tail will be effected by a new dual-arm system involving two pairs of rams.
This will give a lateral/vertical lift and lower sequence, instead of the arc described by current models.