Ford conversions for Manchester fire fighters
21st May 1976
Page 25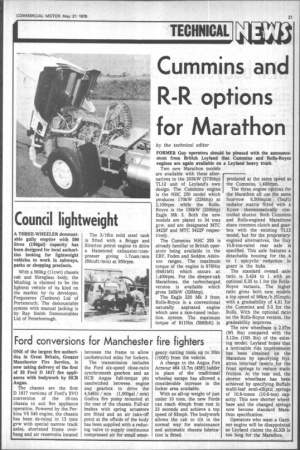 Page 25, 21st May 1976 —
Ford conversions for Manchester fire fighters
Close
ONE of the largest fire authorities in Great Britain, Greater Manchester Fire Service, is now taking delivery of the first of 53 Ford D 1617 fire appliances with bodywork by HCB Angus.
The chassis are the first D 1617 versions of Ford's SVO conversion of the 16-ton chassis to suit fire appliance operation. Powered by the Perkins V8 540 engine, the chassis has been de-rated to 13 tons gvw with special narrow track axles, shortened frame overhang and air reservoirs located between the frame to allow unobstructed sides for lockers.
The transmission includes the Ford six-speed close-ratio synchromesh gearbox and an HCB Angus full-torque pto sandwiched between engine and gearbox to drive the 4,5461it / min (1,000gal / min) Godiva fire pump mounted at the rear of the chassis. Full-air brakes with spring actuators are fitted and an air take-off point at the offside of the body has been supplied with a reducing valve to supply continuous compressed air for small emer gency cutting tools up to 30m (100ft) from the vehicle.
A change to the Angus Fire Armour 464 13.7m (45ft) ladder in place of the traditional wheeled escape has allowed a considerable increase in the locker area available.
With an all-up weight of just under 10 tons, the new Fords can reach 40mph from rest in 23 seconds and achieve a top speed of 63mph. The bodywork allows the cab to tilt in the normal way for maintenance and automatic chassis lubrication is fitted.