Cummins and R-R options for Marathon
21st May 1976
Page 25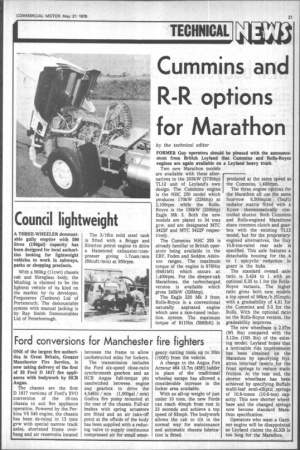 Page 25, 21st May 1976 —
Cummins and R-R options for Marathon
Close
by the technical editor FORMER Guy operators should be pleased with the announcement from British Leyland that Cummins and Rolls-Royce engines are again available on a Leyland heavy truck Two new Marathon models are available with these alternatives to the 203kW (273bhp) TL12 unit of Leyland's own design. The Cummins engine is the NHC 250 model which produces 170kW (228bhp) at 2,100rpm while the RollsRoyce is the 156kW (209bhp) Eagle Mk 3. Both the new models are plated to 34 tons gcw, and are designated MTC 3423F and MTC 3422F respectively.
The Cummins NHC 250 is already familiar to British operators being available in the ERF, Foden and Seddon Atkinson ranges. The maximum torque of the engine is 878Nm (6481bft) which occurs at 1,400rpm. For the sleeper-cab Marathons, the turbocharged version is available which gives 245kW (328bhp).
The Eagle 220 Mk 3 from Rolls-Royce is a conventional naturally aspirated engine which uses a ram-tuned induction system. The maximum torque of 811Nrn (5981bft) is Iproduced at the same speed as the Cummins, 1,400rpm. The three engine options for the Marathon all use the same four-row 6,500sqcm (7sqft) radiator matrix fitted with a Kysor thermostatically controlled shutter. Both Cummins and Rolls-engined Marathons share common clutch and gearbox with the existing TL12 model, but for the proprietaryengined alternatives, the Guy 10.6-ton-rated rear axle is specified. This axle features a detachable housing for the 4 to 1 epicyclic reduction in gears in the hubs.
The standard overall axle ratio is 5.424 to 1 with an optional 6.35 to 1 for the RollsRoyce variants. The higher ratio gives both new models a top speed of 98km/h (61mph) with a gradeability of 4.81 for the Cummins and 5.0 for the Rolls. With the optional ratio on the Rolls-Royce version, the gradeability improves.
The new wheelbase is 2.97m (9ft 9in) compared with the 3.12m (10ft 3in) of the existing model. Leyland hopes that a noticeable ride improvement has been obtained on the Marathon by specifying Nylatron interleaf inserts for the front springs to reduce static friction. At the rear end, the shorter wheelbase has been achieved by specifying Buffalo multi-leaf semi-elliptic springs of 10.8-tonne (10.6-ton) capacity. This new shorter wheelbase and the changed springs now become standard Marathon specification.
Operators who want a Gardner engine will be disappointed as Leyland claims the 8LX13 is too long for the Marathon.