Irish bodybuilder plans bus range
21st May 1976
Page 24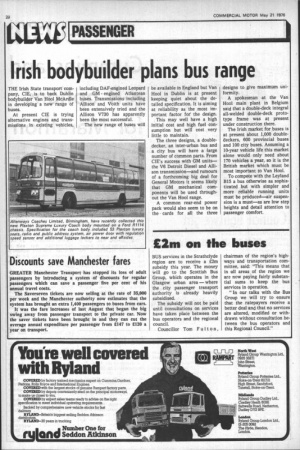 Page 24, 21st May 1976 —
Irish bodybuilder plans bus range
Close
THE Irish State transport company, CIE, is to back Dublin bodybuilder Van Hool McArdle in developing a new range of buses.
At present CIE is trying alternative engines and transmissions in existing vehicles, including DAF-engined Leopard and GM engined Atlantean buses. Transmissions including Allison and Voith units have been extensively tried and the Allison V730 has apparently been the most successful.
The new range of buses will be available in England but Van Hool in Dublin is at present keeping quiet about the detailed specification. It is aiming at reliability as the most important factor for the design.
This may well have a high initial cost and high fuel consumption but will cost very little to maintain.
The three designs, a doubledecker, an inter-urban bus and a city bus will have a large number of common parts. From CIE's success with GM units— the V6 Detroit Diesel and Allison transmission—and rumours of a forthcoming big deal for General Motors it seems likely that GM mechanical components will be used throughout the Van Hool range.
A common rear-end power pack would also seem to be on the cards for all the three designs to give maximum uniformity.
A spokesman at the Van Hool main plant in Belgium said that a double-deck integral all-welded double-deck prototype frame was at present under construction there.
The Irish market for buses is at present about 1,000 doubledeckers, 600 provincial buses and 100 city buses. Assuming a 10-year vehicle life this market alone would only need about 170 vehicles a year, so it is the British market which must be most important to Van Hool.
To compete with the Leyland 1315 a bus otherwise as sophisticated but with simpler and more reliable running units must be produced—air suspension is a must—as are low step heights and detail attention to passenger comfort.