Continental tours monopoly alleged
21st May 1976
Page 23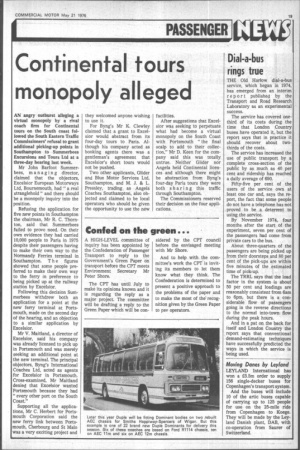 Page 23, 21st May 1976 —
Continental tours monopoly alleged
Close
AN angry outburst alleging a virtual monopoly by a rival coach firm for Continental tours on the South coast followed the South Eastern Traffic Commissioners' refusal to grant additional picking-up points in Southampton to Summerbees Excursions and Tours Ltd at a three-day hearing last week.
Mr John Barfoot Summerbees, managing director, claimed that the objectors, Excelsior European Motorways Ltd, Bournemouth, had "a real stranglehold" and there should be a monopoly inquiry into the position.
Refusing the application for five new points in Southampton the chairman, Mr R. C. Thornton, said that Summerbees failed to prove need. On their own evidence they had carried 10,000 people to Paris in 1975 despite their passengers having to make their own way to the Normandy Ferries terminal in Southampton. T h e figures showed that some people preferred to make their own way to the ferry in preference to being picked up at the railway station by Excelsior.
Following this decision Summerbees withdrew both an application for a point at the new ferry terminal at Portsmouth, made on the second day of the hearing, and an objection to a similar application by Excelsior.
Mr V. Maitland, a director of Excelsior, said his company was already licensed to pick up in Portsmouth and was merely seeking an additional point at the new terminal. The principal objectors, Byng's International Coaches Ltd, acted as agents for Excelsior in Portsmouth. Cross-examined, Mr Maitland denied that Excelsior wanted Portsmouth because they had "every other port on the South Coast."
Supporting all the applications, Mr C. Herbert for Portsmouth Corporation said the new ferry link between Portsmouth, Cherbourg and St Malo was a very exciting project and they welcomed anyone wishing to use it.
For Byng's Mr K. Clewley claimed that a grant to Excelsior would abstract from its four-day tours to Paris. Although his company acted as booking agents there was a gentleman's agreement that Excelsior's short tours would not be pushed.
Two other applicants, Glider and Blue Motor Services Ltd, Southampton, and M. J. & L. Pressley, trading as Angela Coaches Southampton, also objected and claimed to be local operators who should be given the opportunity to use the new facilities.
After suggestions that Excelsior was seeking to perpetuate what had become a virtual monopoly on the South Coast with Portsmouth "the final scalp to add to their collection," Mr D. Keen for the company said this was totally untrue. Neither Glider nor Angela held Continental licences and although there might be abstraction from Byng's four-day Paris tours they were both s haring this traffic through Southampton.
The Commissioners reserved their decision on the four applications.