Removing worry by guarantee
21st May 1976
Page 22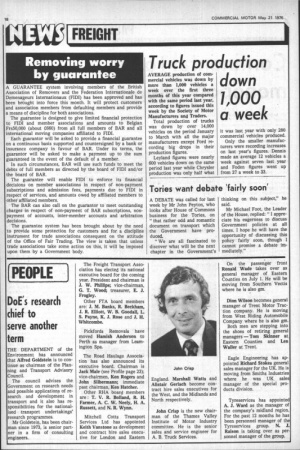 Page 22, 21st May 1976 —
Removing worry by guarantee
Close
A GUARANTEE system involving members of the British Association of Removers and the Federation Internationale de Demenageurs Internationaux (FIDI) has been approved and has been brought into force this month. It will protect customers and association members from defaulting members and provide a means of discipline for both associations.
The guarantee is designed to give limited financial protection to FIDI and member associations and amounts to Belgian Frs50,000 (about £660) from all full members of BAR and all international moving companies affiliated to FIDI, Each guarantor will be asked to provide a financial guarantee on a continuous basis supported and countersigned by a bank or insurance company in favour of BAR. Under its terms, the guarantor will be asked to make a payment up to the sum guaranteed in the event of the default of a member.
In such circumstances, BAR will use such funds to meet the debts of full members as directed by the board of FIDI and/or the board of BAR.
The guarantee will enable FIDI to enforce its financial decisions on member associations in respect of non-payment subscriptions and admission fees, payments due to FIDI in respect of services, and amounts owed by affiliated members to other affiliated members.
The BAR can also call on the guarantor to meet outstanding charges in respect of non-payment of BAR subscriptions, nonpayment of accounts, inter-member accounts and arbitration decisions.
The guarantee system has been brought about by the need to provide some protection for customers and for a discipline instrument for trade associations consequent on the attitude of the Office of Fair Trading. The view is taken that unless trade associations take some action on this, it will be imposed upon them by a Government body.