(PEOPLE
21st May 1976
Page 22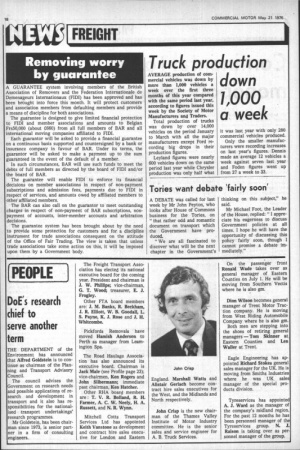 Page 22, 21st May 1976 —
(PEOPLE
Close
DoE's research chief to serve another term
THE DEPARTMENT of the Environment has announced that Alfred Goldstein is to continue as chairman of the Planning and Transport Advisory Council.
The council advises the Government on research needs and possible applications of research and development in transport and it also has responsibilities for the nationalised transport undertakings' research programmes.
Mr Goldstein, has been chairman since 1973, is senior partner in a firm of consulting engineers. The Freight Transport Association has elected its national executive board for the coming year. President and chairman is J. W. Phillips; vice-chairman, G. T. Wood; treasurer, E. J. Frogley.
Other FTA board members are: J. M. Banks, R. Beckham, J. R. Elliott, W. B. Goodall, L. S. Payne, K. J. Rose and J. H. Whitcombe.
Pickfords Removals have moved Hamish Anderson to Perth as manager from Leamington Spa.
The Road Haulage Association has also announced its executive board. Chairman is Jack Male (see Profile page 23); vice-chairmen, Ken Rogers and John Silbermann; immediate past chairman, Ken Hatcher.
Other RHA board members are : T. V. R. Bolland, R. H. Farmer, A. C. W. Neely, H. A. Russett, and N. R. Wynn.
Mitchell Cotts Transport Services Ltd has appointed Keith Vanstone as development and contract hire sales executive for London and Eastern England. Marshall Watts and Alistair Gerlach become contract hire sales executives for the West, and the Midlands and North respectively.
John Crisp is the new chairman of the Thames Valley Institute of Motor Industry committee. He is the senior sales and service engineer for A. B. Truck Services. On the passenger front Ronald Wade takes over as general manager of Eastern Counties on July 1. He will be moving from Southern Vectis where he is also gm.
Dion Wilson becomes general manager of Trent Motor Traction company. He is moving from West Riding Automobile Company where he is also gm.
Both men are stepping into the shoes of retiring general managers — Tom Skinner at. Eastern Counties and Len Waller at Trent.
Eagle Engineering has appointed Richard Stokes general sales manager for the UK. He is moving from Smiths Industries where he was UK sales manager of the special products division.
Tyreservices has appointed A. J. Ward as the manager of the company's midland region. For the past 12 months he has been personnel manager of the Tyreservices group. N. J. Raison is taking over as personnel manager of the group.
Tags
People
:
Tom Skinner
,
Ken Hatcher
,
John Crisp
,
John Silbermann
,
Dion Wilson
,
Richard Stokes
,
Marshall Watts
,
E. J. Frogley
,
A. J. Ward
,
Alfred Goldstein
,
Jack Male
,
Ken Rogers
,
Hamish Anderson
,
G. T. Wood
,
Keith Vanstone
,
Alistair Gerlach
,
Ronald Wade