Vehicle delivery delays forecast
21st May 1976
Page 21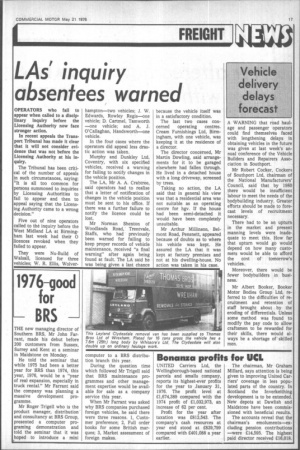 Page 21, 21st May 1976 —
Vehicle delivery delays forecast
Close
A WARNING that road haul age and passenger operators could find themselves faced with lengthening delays in obtaining vehicles in the future was given at last week's annual conference of the Vehicle Builders and Repairers Association in Southport.
Mr Robert Cocker, Cockers of Southport Ltd, chairman of the National Manufacturers' Council, said that by 1980 there would be insufficient labour to meet the needs of the bodybuilding industry. Greater efforts should be made to forecast levels of recruitment necessary.
There had to be an upturn in the market and present manning levels were inadequate to meet this. How far that upturn would go would depend on how many customers would be able to afford the cost of tomorrow's vehicles.
Moreover, there would be fewer bodybuilders in business.
Mr Albert Booker, Booker Motor Bodies Group Ltd, referred to the difficulties of recruitment and retention of staff brought about by the eroding of differentials. Unless some method was found to modify the pay code to allow craftsmen to be rewarded for their skills, there would always be a shortage of skilled men.