LAs' inquiry absentees warned
21st May 1976
Page 21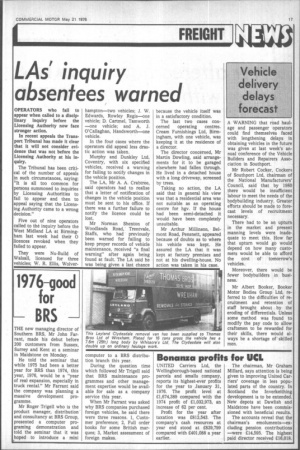 Page 21, 21st May 1976 —
LAs' inquiry absentees warned
Close
OPERATORS who fail to appear when called to a disciplinary inquiry before the Licensing Authority now face stronger action.
In recent appeals the Transport Tribunal has made it clear that it will not consider evidence that was not before the Licensing Authority at his inquiry.
The Tribunal has been critical of the number of appeals in such circumstances, saying: "It is all too common for persons summoned to inquiries by Licensing Authorities to fail to appear and then to appeal saying that the Licensing Authority came to a wrong decision."
Five out of nine operators called to the inquiry before the West Midland LA at Birmingham last week had their 0 licences revoked when they failed to appear.
They were Nu-Build of Walsall, licensed for three vehicles; W. R. Ellis, Wolver
hampton—two vehicles; J. W. Edwards, Rowley Regis—one vehicle; D. Cartmel, Tamworth —one vehicle; and A. J. O'Callaghan, Handsworth—one vehicle.
In the four cases where the operators did appeal less drastic action was taken.
Murphy and Dunkley Ltd, Coventry, with six specified vehicles, received a warning for failing to notify changes in the vehicle position.
The LA, Mr A. A. Crabtree, said operators had to realise that a letter of notification of changes in the vehicle position must be sent to his office. If there was a further failure to notify the licence could be lost.
Mr Norman Shenton of Woodlands Road, Trentvale, Staffs, who had previously been warned for failing to keep proper records of vehicle maintenance, received "a final warning" after again being found at fault. The LA said he was being given a last chance
because the vehicle itself was in a satisfactory condition.
The last two cases concerned operating centres. Cream Furnishings Ltd, Birmingham, with one vehicle, was keeping it at the residence of a director.
The director concerned, Mr Martin Dowling, said arrangements for it to be garaged elsewhere had fallen through. He lived in a detached house with a long driveway, screened by trees.
Taking no action, the LA said that in general his view was that a residential area was not suitable as an operating centre for hgv. If the house had been semi-detached it would have been completely unsuitable.
Mr Arthur Millinson, Belmont Road, Pensnett, appeared because of doubts as to where his vehicle was kept. He assured the LA that it was kept at factory premises and not at his dwelling-house. No action was taken in his case.