Driver altered hgv licence with ballpoint
21st May 1976
Page 20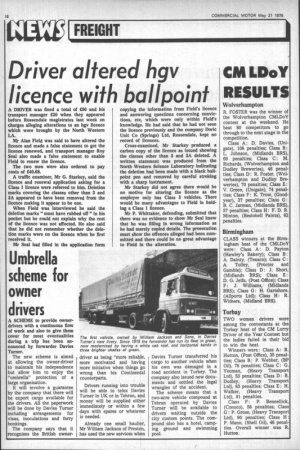 Page 20, 21st May 1976 —
Driver altered hgv licence with ballpoint
Close
A DRIVER was fined a total of £50 and his transport manager £20 when they appeared before Rossendale magistrates last week on charges alleging alterations to an hgv licence which were brought by the North Western LA.
Mr Alan Field was said to have altered the licence and made a false statement to get the licence renewed, and transport manager Roy Seal also made a false statement to enable Field to renew the licence.
The two men were also ordered to pay costs of £40.68.
A traffic examiner, Mr G. Starkey, said the licence and renewal application asking for a Class 1 licence were referred to him. Deletion marks covering the classes other than 3 and 3A appeared to have been removed from the licence making it appear to be one.
When Field was interviewed he said the deletion marks "must have rubbed off" in his pocket but he could not explain why the rest of the licence was not affected. He also said that he did not remember whether the deletion marks were on the licence when he first received it.
Mr Seal had filled in the application form copying the information from Field's licence and answering questions concerning convictions, etc, which were only within Field's knowledge. He had said that he had not seen the licence previously and the company Doric Unit Co (Springs) Ltd, Rossendale, kept no record of licences.
Cross-examined, Mr Starkey produced a carbon copy of the licence as issued showing the classes other than 3 and 3A deleted. A written statement was produced from the North Western Science Laboratory indicating the deletion had been made with a black ballpoint pen and removed by careful stroking with a sharp instrument.
Mr Starkey did not agree there would be no motive for altering the licence as the employer only has Class 3 vehicles. There would be many advantages to Field in holding a Class 1 licence.
Mr P. Whittaker, defending, submitted that there was no evidence to show Mr Seal knew that he was filling in wrong information as he had merely copied details. The prosecution must show the offences alleged had been committed and there could be no great advantage to Field in the alteration.