'Distribution is lousy' warning
21st May 1976
Page 19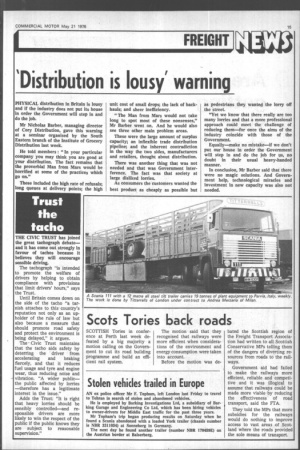 Page 19, 21st May 1976 —
'Distribution is lousy' warning
Close
PHYSICAL distribution in Britain is lousy and if the industry does not put its house in order the Government will step in and do the job.
Mr Nicholas Barber, managing director of Cory Distribution, gave this warning at a seminar organised by the South Eastern branch of the Institute of Grocery Distribution last week.
He told members : "In your particular company you may think you are good at your distribution. The fact remains that the proverbial Man from Mars would be horrified at some of the practices which go on."
These included the high rate of refusals; long queues at delivery points; the high unit cost of small drops; the lack of backhauls; and sheer inefficiency.
"The Man from Mars would not take long to spot most of these nonsenses," Mr Barber went on. And he would also see three other main problem areas.
These were the large amount of surplus capacity; an inflexible trade distribution pipeline; and the inherent contradiction in the way the two sides, manufacturers and retailers, thought about distribution.
There was another thing that was not needed and that was Government interference. The fact was that society at large disliked lorries.
As consumers the customers wanted the best product as cheaply as possible but as pedestrians they wanted the lorry off the street.
"Yet we know that there really are too many lorries and that a more professional approach could meet the challenge of reducing them—for once the aims of the industry coincide with those of the Government.
Equally—make no mistake—if we don't put our house in order the Government will step in and do the job for us, no doubt in their usual heavy-handed manner.
In conclusion, Mr Barber said that there were no magic solutions. And Government help, technological miracles and investment in new capacity was also not needed.