Keeping in
21st May 1971
Page 76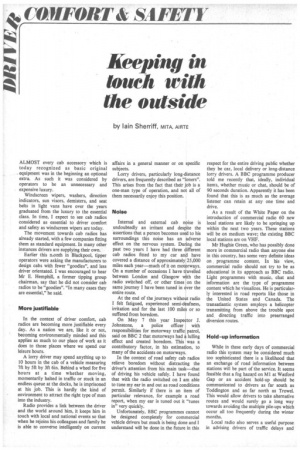 Page 76, 21st May 1971 —
Keeping in
Close
(ouch with the outside
by lain Sheriff, MITA, AIRTE
ALMOST every cab accessory which is today recognized as basic original _ equipment was in the beginning an optional extra. As such it was considered by operators to be an unnecessary and expensive luxury.
Windscreen wipers, washers, direction indicators, sun visors, demisters, and seat belts in light vans have over the years graduated from the luxury to the essential class. In time, I expect to see cab radios considered as essential to driver comfort and safety as windscreen wipers are today.
The movement towards cab radios has already started, with a few companies fitting them as standard equipment. In many other instances drivers are supplying their own.
Earlier this n.onth in Blackpool, tipper operators were asking the manufacturers to design cabs with fewer "goodies", and less driver orientated. I was encouraged to hear Mr E. Hemphill, a former tipping group chairman, say that he did not consider cab radios to be "goodies". "In many cases they are essential," he said.
More justifiable In the context of driver comfort, cab radios are becoming more justifiable every day. As a nation we are, like it or not, becoming environmentally minded and this applies as much to our place of work as it does to those places where we spend our leisure hours.
A lorry driver may spend anything up to 10 hours in the cab of a vehicle measuring 7ft by 511 by 311 6in. Behind a wheel for five hours at a time whether moving, momentarily halted in traffic or stuck in an endless queue at the docks, he is imprisoned at his job. This is hardly the kind of environment to attract the right type of man into the industry.
Radio provides a link between the driver and the world around him, it keeps him in touch with local and national events so that when he rejoins his colleagues and family he is able to converse intelligently on current
affairs in a general manner or on specific subjects.
Lorry drivers, particularly long-distance drivers, are frequently described as "loners". This arises from the fact that their job is a one-man type of operation, and not all of them necessarily enjoy this position.
Noise Internal and external cab nOise is undoubtedly an irritant and desPite the assertions that a person becomes used to his surroundings this noise has an adverse effect on the nervous system. During the past two years I have had three different cab radios fitted to my car and have covered a distance of approximately; 25,000 miles each year—much of it on mot6rways. On a number of occasions I have tfuvelled between London and Glasgow With the radio switched off, or other times on the same journey I have been tuned in over the entire route.
At the end of the journeys without radio I felt fatigued, experienced semi-deafness, irritation and for the last 100 miler or so suffered from boredom.
On May 7 this year Inspector J. Johnstone, a police officer with responsibilities for motorway traffic patrol, said on BBC 2 that motorways had lulling effect and created boredom. This was a contributory factor, in his estimation, to many of the accidents on motorways.
In the context of road safety cab radios relieve boredom without distracting the driver's attention from his main task—that of driving his vehicle safely. I have found that with the radio switched on I am able to time my ear in and out as road conditions permit. Similarly if there is an item of particular relevance, for example a road report, when my ear is tuned out it "tunes in" very quickly.
Unfortunately, BBC programmes cannot be designed completely for commercial vehicle drivers but much is being done and I understand will be done in the future in this