What priee
21st May 1971
Page 72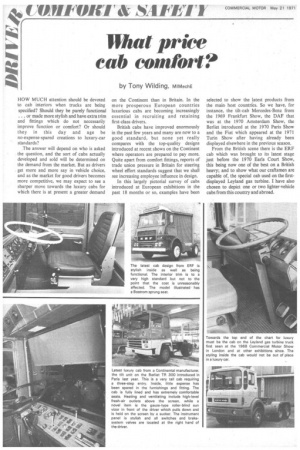 Page 72, 21st May 1971 —
What priee
Close
cab eolufort?
by Tony Wilding, MtMechE
HOW MUCH attention should be devoted to cab interiors when trucks are being specified? Should they be purely functional . . or made more stylish and have extra trim and fittings which do not necessarily improve function or comfort? Or should they in this day and age be no-expense-spared creations to luxury-car standards?
The answer will depend on who is asked • the question, and the sort of cabs actually developed and sold will be determined on the demand from the market. But as drivers . get more and more say in vehicle choice, and as the market for good drivers becomes more competitive, we may expect to see a sharper move towards the luxury cabs for which there is at present a greater demand on the Continent than in Britain. In the more prosperous European countries luxurious cabs are becoming increasingly essential in recruiting and retaining first-class drivers.
British cabs have improved enormously in the past few years and many are now to a good standard, but none yet really compares with the top-quality designs introduced at recent shows on the Continent where operators are prepared to pay more. Quite apart from comfort fittings, reports of trade union pressure in Britain for steering wheel effort standards suggest that we shall see increasing employee influence in design.
In this largely pictorial survey of cabs introduced at European exhibitions in the past 18 months or so, examples have been selected to show the latest products from the main • host countries. So we have, for instance, the tilt-cab Mercedes-Benz from the 1969 Frankfurt Show, the DAF that was at the 1970 Amsterdam Show, the Berliet introduced at the 1970 Paris Show and the Fiat which appeared at the 1971 Turin Show after having already been displayed elsewhere in the previous season.
From the British scene there is the ERF cab which was brought to its latest stage just before the 1970 Earls Court Show, this being now one of the best on a British heavy; and to show what our craftsmen are capable of, the special cab used on the firstdisplayed Leyland gas turbine. I have also Chosen to depict one or two lighter-vehicle cabs from this country and abroad.