nrianagemoirit
21st May 1971
Page 63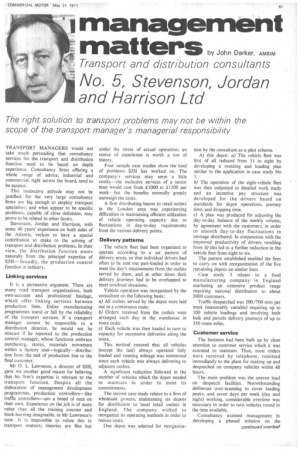 Page 64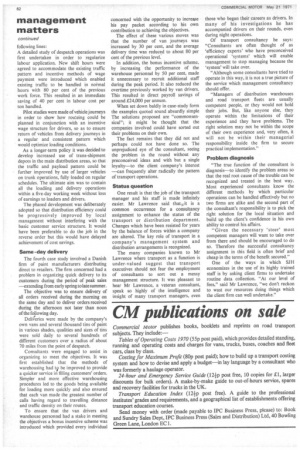 Page 63, 21st May 1971 —
nrianagemoirit
Close
matters by John Darker, AMBIM
Transport and distribution consultants
No. 5, Stevenson, Jordan and Harrison Ltd
The right solution to transport problems may not be within the scope of the transport manager's managerial responsibility
TRANSPORT MANAGERS would not take much persuading that consultancy services for the transport and distribution function need to be based on depth experience. Consultancy firms offering a whole range of advice, industrial and commercial, right across the board, tend to be suspect.
This instinctive attitude may not be justified, for the very large consultancy firms are big enough to employ transport specialists; and what appear to be specific problems, capable of close definition, may prove to be related to other facets.
Stevenson, Jordan and Harrison, with some 40 years' experience on both sides of the Atlantic, reckon to have a special contribution to make to the solving of transport and distribution problems. In their view, the distribution function stems naturally from the principal expertise of SJH—broadly, the production control function in industry.
Linking services It is a persuasive argument. There are many road transport organizations, both own-account and professional haulage, which offer linking services between production lines. Entire manufacturing programmes stand or fall by the reliability of the transport services. If a transport manager cannot be responsible to a distribution director, he would not be miscast if he reported to the production control manager, whose functions embrace purchasing, stores, materials movement within a factory and—logically--distributionfrom the end of production line to the final customer.
Mr O. L. Lawrence, a director of SJH, gave me another good reason for believing that his firm's expertise is relevant to the transport function. Despite all the elaboration of management development programmes, production controllers—like traffic controllers—are a breed of men on their own. Experience on the job is of more value than all the training courses and book-learning imaginable, in Mr Lawrence's view. It is impossible to refute this in transport matters; theories are fine but under the stress of actual operations an ounce of experience is worth a ton of theory.
Four sample case studies show the kind of problems SJH has worked on. The company's services may seem a little costly—the exclusive services of a senior man would cost from £1000 to £1500 per week—but the benefits normally greatly outweigh the costs. A firm distributing bacon to retail outlets' in the London area was experiencing difficulties in maintaining efficient utilization of vehicle operating capacity due to fluctuations in day-to-day requirements from the various delivery points.
Delivery patterns
The vehicle fleet had been organized to operate according -to a set pattern of delivery areas, so that individual drivers had often to be sent out part-loaded in order to meet the day's requirements from the outlets served by them, and at other times their delivery journeys had to be overlapped to meet overload situations.
Vehicle operation was reorganized by the consultant on the following basis: a) All outlets served by the depot were laid out in a continuous route.
b) Orders received from the outlets were arranged each day in the warehouse in route order.
0 Each vehicle was then loaded in turn to capacity for successive deliveries along the route.
This method ensured that all vehicles (except the last) always operated fully loaded and running mileage was minimized since each vehicle was always delivering to adjacent outlets.
A significant reduction followed in the number of vehicles which the depot needed to maintain in order to meet its commitments.
The second case study relates to a firm of wholesale grocers, maintaining six depots for distribution to local retail outlets in England. The corhpany wished to reorganize its operating methods in order to reduce costs.
One depot was selected for reorganiza
tion by the consultant as a pilot scheme.
At this depot: a) The vehicle fleet was first of all reduced from 11 to eight by developing a routeing and loading plan similar to the application in case study No 1.
b) The operation of the eight-vehicle fleet was then subjected to detailed work study and an incentive pay structure was developed for the drivers based on standards for depot operations, journey time, and dropping time.
c) A plan was produced for adjusting the day-to-day balance of the weekly volume, by agreement with the customers, in order to smooth day-to-day fluctuations in tonnage distributed. In conjunction with the improved productivity of drivers resulting from b) this led to a further reduction in the vehicle fleet from eight to six.
The pattern established enabled the firm to carry on with reorganization of the five remaining depots on similar lines.
Case study 3 relates to a food manufacturing company in England marketing an extensive product range requiring national distribution to about 5000 customers.
Traffic despatched was 500/700 tons per week (seasonably variable) requiring up to 100 vehicle loadings and involving both bulk and parcels delivery journeys of up to 350 route miles.
Customer service The business had been built up by close attention to customer service which it was essential to maintain. Thus, most orders were received by telephone, remitted immediately to the plant for making up and despatched on company vehicles within 48 hours.
The main problem was the uneven load on despatch facilities. Notwithstanding deliberate over-manning to cover loading peaks, and seven days per week (day and night) working, considerable overtime was necessary in order to turn vehicles round in the time available.
Consultancy assisted management in developing a phased solution on the continued overleaf following lines: A detailed study of despatch operations was first undertaken in order to regularize labour application. New shift hours were agreed to accommodate the existing traffic pattern and incentive methods of wage payment were introduced which enabled existing traffic to be handled in normal hours with 80 per cent of the previous work force. This resulted in an immediate saving of 40 per cent in labour cost per ton handled.
Pilot studies were made of vehicle journeys in order to show how routeing could be planned in conjunction with an incentive wage structure for drivers, so as to ensure return of vehicles from delivery journeys in a regular and consistent pattern which would optimize loading conditions.
As a longer-term policy it was decided to develop increased use of trans-shipment depots in the main distribution areas, so that the traffic and payload pattern could be further improved by use of larger vehicles on trunk operations, fully loaded on regular schedules. The ultimate aim was to contain all the loadiing and delivery operations within a five-day working week without loss of earnings to loaders and drivers.
The phased development was deliberately adopted so that distribution efficiency could be progressively improved by local management without interfering with the basic customer service structure. It would have been preferable to do the job in the reverse order but this would have delayed achievement of cost savings.
Same–day delivery
The fourth case study involved a Danish firm of paint manufacturers distributing direct to retailers. The firm concerned had a problem in organizing quick delivery to its customers during the period of peak sales —extending from early spring tolate summer.
The objective was to ensure delivery of all orders received during the morning on the same day and to deliver orders received during the afternoon not later than noon of the following day. DeVeries were made by the company's own vans and several thousand tins of paint in various shades, qualities and sizes of tins were sold daily to several hundreds of different customers over a radius of about 70 miles from the point of despatch.
Consultants were engaged to assist in organizing to meet the objectives. It was first established that the methods of warehousing had t be improved to provide a quicker service in filling customers' orders. Simpler and more effective warehousing procedures led to the goods being available for loading more quickly and also ensured that each van made the greatest number of calls having regard to travelling distance and traffic density on their routes.
To ensure that the van drivers and warehouse personnel had a stake in meeting the objectives a bonus incentive scheme was introduced which provided every individual concerned with the opportunity to increase his pay packet according to his own contribution to achieving the objectives.
The effect of these various moves was that the number of van journeys was increased by 30 per cent, and the average delivery time was reduced to about 80 per cent of the previous level.
In addition, the bonus incentive scheme, by increasing the performance of the warehouse personnel by 50 per cent, made it unnecessary to recruit additional staff during the peak period. It also reduced the overtime previously worked by van drivers. This resulted in direct payroll savings of around £24,000 per annum.
When set down baldly in case-study form the examples quoted sound absurdly simple The solutions proposed are "commonsensical"; it might be thought that the companies involved could have sorted out their problems on their own.
The fact remains that they did not and perhaps could not have done so. The unprejudiced eye of the consultant, seeing the problem in the round without any preconceived ideas and with but a single loyalty—to the client company's interest —can frequently alter radically the pattern of transport operations.
Status question
One result is that the job of the transport manager and his staff is made infinitely easier. Mr Lawrence said that "g it is a common occurrence for a consultancy assignment to enhance the status of the transport or distribution department. Changes which have been resisted for years by the balance of forces within a company are altered. The key role of transport in a company's management systern and distribution arrangements is recognized.
The many companies known to Mr Lawrence where transport as a function is under-valued suggest that transport executives should not fear the employment of consultants to sort out a messy management structure. It was pleasant to hear Mr Lawrence, a veteran consultant, speak so highly of the intelligence and insight of many transport managers, even those who began their careers as drivers. In many of his investigations he has accompanied drivers on their rounds, even during night operations.
Of transport consultancy he says: "Consultants are often thought of as 'efficiency experts' who have preconceived operational 'systems' which will enable management to stop managing because the 'system' will take over.
"Although some consultants have tried to operate in this way, it is not a true picture of the service which management consultancy should offer.
"Managers of distribution warehouses and road transport fleets are usually competent people, or they would not hold their jobs. But, like anyone else, they operate within the limitations of their experience and they have problems. The right solution may not be within the scope of their own experience and, very often, it will not be within their managerial responsibility inside the firm to secure practical implementation."
Problem diagnosis
"The true function of the consultant is diagnosis--to identify the problem areas so that the real root cause of the trouble can be recognized and treated in the best way. Most experienced consultants know the different methods by which particular operations can be handled effectively but no two firms are alike and the second part of the consultant's responsibility is to pick the right solution for the local situation and build up the client's confidence in his own ability to control his affairs.
"Given the necessary 'steer' most competent managers will want to take over from there and should be encouraged to do so. Therefore the successful consultancy assignment in this field is often brief and cheap in the terms of the benefit secured."
One of the ways in which SJH economizes in the use of its highly trained staff is by asking client firms to undertake routine data collection. "At our level of fees," said Mr Lawrence, "we don't reckon to wast our resources doing things which the client firm can well undertake."