n If an hgv driving licence holder is con victed
21st May 1971
Page 62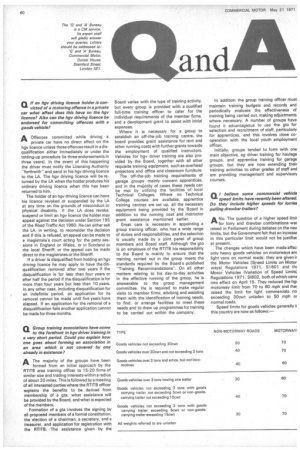 Page 62, 21st May 1971 —
n If an hgv driving licence holder is con victed
Close
of a motoring offence in a private car what affect does this have on the hgv licence? Also can the hgv driving licence be endorsed for committing offences with a goods vehicle?
AOffences committed while driving a private car have no direct effect on the hgv licence unless those offences result in a disqualification either immediately or under the totting-up procedure (ie three endorsements in three years). In the event of this happening the driver must notify the Licensing Authority -forthwith.' and send in his hgv driving licence to the LA. The hgv driving licence will be returned by the LA when the holder produces his ordinary driving licence when this has been returned to him.
The holder of an hgv driving licence can have his licence revoked or suspended by the LA at any time on the grounds of misconduct or physical disability. If the LA does revoke, suspend or limit an hgv licence the holder may appeal against the decision under Section 195 of the Road Traffic Act 1960. He can either ask the LA, in writing, to reconsider the decision and if this is refused, an appeal can be made to a magistrate's court acting for the petty sessions in England or Wales, or in Scotland to the local Sheriff, or the appeal can be made direct to the magistrates or the Sheriff.
If a driver is disqualified from holding an hgv driving licence he may apply to have the disqualification removed after two years if the disqualification is for less than four years or after half the period if the disqualification is for more than four years but less than 10 years. In any other case, including disqualification for an indefinite period, an application for its removal cannot be made until five years have elapsed. If an application for the removal of a disqualification fails another application cannot be made for three months.