Who pays?
21st May 1971
Page 54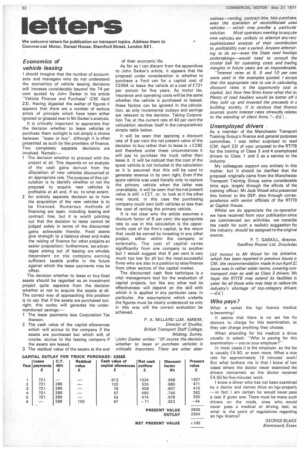 Page 54, 21st May 1971 —
Who pays?
Close
What a racket the hgv licence medical is becoming!
It seems that there is no set fee for doctors to charge for this examination, sc they can charge anything they choose.
When attending for his medical a driver usually is asked: "Who is paying for thi.9 examination—you or your employer?"
In most cases it is the employer, so the fee is usually £4.50, or even more. What a nice rate for approximately 15 minutes' work! But what bothers me is that I know of two cases where the doctor never examined the drivers concerned, so the doctor received £4.50 for five minutes' work.
471 I know a driver who has not been examined 410 by a doctor and cannot drive an hgv properly 362 —in fact I am certain he would never pass 330 a test if given one. There must be many such –44 drivers on the roads, ones who would never pass a medical or driving test, so 2836 what is the point of regulations regarding 2564 an hgv licence? GEORGE BLAKE Brentwood, Essex