• Scots wha hae
21st May 1971
Page 50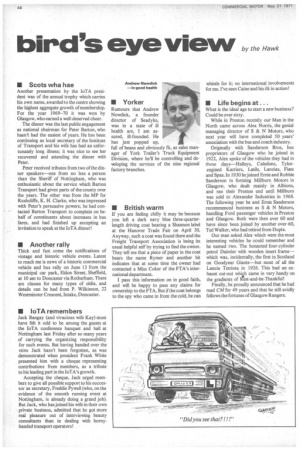 Page 50, 21st May 1971 —
• Scots wha hae
Close
Another presentation by the IoTA president was of the annual trophy which carries his own name, awarded to the centre showing the highest aggregate growth of membership. For the year 1969-70 it was won by Glasgow, who earned a well-deserved cheer.
The dinner was the last public engagement as national chairman for Peter Barton, who hasn't had the easiest of years. He has been continuing as local secretary of the Institute of Transport and his wife has had an unfortunately long illness; it was nice to see her recovered and attending the dinner with Peter.
Peter received tributes from two of the dinner speakers—one from no less a person than the Sheriff of Nottingham, who was enthusiastic about the service which Barton Transport had given parts of the county over the years. The other was from the MP for Rushcliffe, K. H. Clarke, who was impressed with Peter's persuasive powers; he had contacted Barton Transport to complain on behalf of constituents about increases in bus fares, and had finished up accepting an invitation to speak at the IoTA dinner!