• Life begins at . . .
21st May 1971
Page 50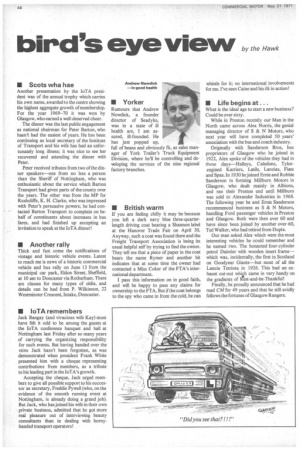 Page 50, 21st May 1971 —
• Life begins at . . .
Close
What is the ideal age to start a new business? Could be over sixty.
While in Preston recently our Man in the North came across Alex Norris, the genial managing director of S & N Motors, who next year will have completed 50 years' association with the bus and coach industry.
Originally with Sanderson Bros, bus proprietors of Glasgow who he joined in 1922, Alex spoke of the vehicles they had in those days—Halleys, Caledons, Tylorengined Karriers, Latils, Lancias, Fiats and Spas. In 1930 he joined Ernie and Robbie Sanderson in forming Millburn Motors in Glasgow, who dealt mainly in Albions, and ran their Preston end until Millburn was sold to Alexander Industries in 1968. The following year he and Ernie Sanderson recommenced business as S & N Motors, handling Ford passenger vehicles in Preston and Glasgow. Both were then over 60 and have since been joined by another over-60, Ted Walker, who had retired from Duple.
Our man asked Alex which were the most interesting vehicles he could remember and he named two. The bonneted four-cylinder petrol Daimler with wooden insert frame— which was, incidentally, the first in Scotland on Goodyear Giants—but most of all the Lancia Tetriota in 1926. This had an exhaust cut-out which came in very handy on the gradients of Itest-and-be-Thankfull.
Finally, he proudly announced that he had read CM for 49 years and that he still avidly follows the fortunes of Glasgow Rangers.