Manpower and labour relations
21st May 1971
Page 49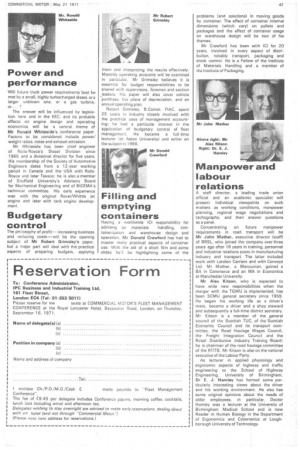 Page 49, 21st May 1971 —
Manpower and labour relations
Close
A staff director, a leading trade union official and an academic specialist will present individual viewpoints on such matters as working conditions, manpower planning, regional wage negotiations and tachographs, and then answer questions as a panel.
Concentrating on future manpower requirements in road transport will be Mr John Mather, executive director (staff) of BRSL, who joined the company over three years ago after 18 years in training, personnel and industrial relations posts in manufacturing industry and transport. The latter included work with London Carriers and with Convoys Ltd. Mr Mather, a Mancunian, gained a BA in Commerce and an MA in Economics at Manchester University.
Mr Alex Kitson, who is expected to have wide new responsibilities when the merger with the TGWU is implemented, has been SCMU general secretary since 1959. He began his working life as a driver's mate, became a driver and a shop steward and subsequently a full-time district secretary. Mr Kitson is a member of the general council of the Scottish TUC, of the Scottish Economic Council and its transport committee, the Road Haulage Wages Council, the Freight Integration Council and the Retail Distributive Industry Training 'Board: he is chairman of the road haulage committee of the RTITB. Mr Kitson is also on the national executive of the Labour Party.
As lecturer in applied physiology and ergonomic aspects of highway and traffic engineering to the School of Highway Engineering, University of Birmingham, Dr E. J. Hamley has formed some particularly interesting views about the driver and his working environment. He also has some original opinions about the needs of older employees, in particular. Doctor Hamley was a lecturer at the University of Birmingham Medical School and is now Reader in Human Biology in the Department of Ergonomics and Cybernetics at Loughborough University of Technology.