0 licence grant for firemen's wives
21st May 1971
Page 34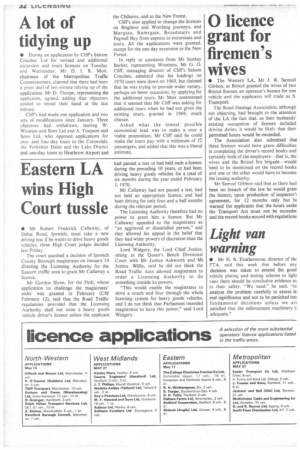 Page 34, 21st May 1971 —
0 licence grant for firemen's wives
Close
• The Western LA, Mr J. R. Samuel Gibbon, at Bristol granted the wives of two Bristol firemen an operator's licence for one vehicle and the applicants will trade as S. Transport.
The Road Haulage Association, although not objecting, had brought to the attention of the LA the fact that, as their husbands' existing occupation of firemen included driving duties, it would be likely that their permitted hours would be exceeded.
The Association also submitted that these firemen would have grave difficulties in completing the driver's record books and certainly both of the employers that is, the wives and the Bristol fire brigade—would • need to be mentioned on the record books and one or the other would have to become the issuing authority.
Mr Samuel Gibbon said that as there had been no breach of the law he would grani the licence, upon production of inspectoet agreement, for 12 months only but lit warned the applicants that the hours uncle] the Transport Act must not be exceedec and the record books accord with regulations