Wheel-away power packs
21st May 1971
Page 30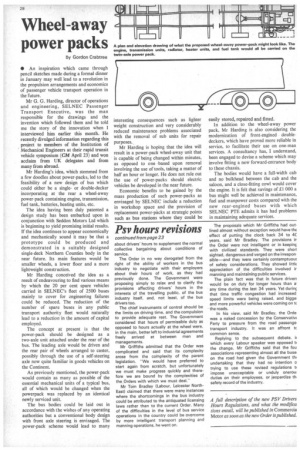 Page 30, 21st May 1971 —
Wheel-away power packs
Close
by Gordon Crabtree
• An inspiration which came through pencil sketches made during a formal dinner in January may well lead to a revolution in the propulsion arrangements and economics of passenger vehicle transport operation in the future.
Mr G. G. Harding, director of operations and engineering, SELNEC Passenger Transport Executive, was the man responsible for the drawings and the invention which followed them and he told me the story of the innovation when I interviewed him earlier this month. He recently divulged information regarding this project to members of the Institution of Mechanical Engineers at their rapid transit vehicle symposium (CM April 23) and won acclaim from UK delegates and from many from abroad.
Mr Harding's idea, which stemmed from a few doodles about power-packs, led to the feasibility of a new design of bus which could either be a singleor double-decker incorporating at the rear a wheel-away power-pack containing engine, transmission, fuel tank, batteries, heating units, etc.
The idea having been duly patented a design study has been embarked upon in conjunction with Seddon Motors Ltd which is beginning to yield promising initial results. If the idea continues to appear economically and mechanically sound it may be that a prototype could be produced and demonstrated in a suitably designed single-deck Northern Counties body in the near future. Its main features would be smaller wheels, a lower floor and a more lightweight construction.
Mr Harding conceived the idea as a result of endeavouring to find various means by which the 20 per cent spare vehicles carried in SELNEC's fleet of 2500 buses mainly to cover for engineering failures could be reduced. The reduction of the number of spare buses in any public transport authority fleet would naturally lead to a reduction in the amount of capital employed.
The concept at present is that the power-pack should be designed as a two-axle unit attached under the rear of the bus. The leading axle would be driven and the rear pair of wheels arranged to caster, possibly through the use of a self-steering axle now quite familiar in goods vehicles on the Continent.
As previously mentioned, the power-pack would contain as many as possible of the essential mechanical units of a typical bus, all of which would be changed when the powerpack was replaced by an identical newly serviced unit.
The bus bodies could be laid out in accordance with the wishes of any operating authorities but a conventional body design with front axle steering is envisaged. The power-pack scheme would lead to many interesting consequences such as lighter weight construction and very considerably reduced maintenance problems associated with the removal of sub units for repair purposes.
Mr Harding is hoping that the idea will result in a power-pack wheel-away unit that is capable of being changed within minutes, as opposed to one ,based upon removal involving the use of tools, taking a matter of half an hour or longer. He does not rule out the use of power-packs should electric vehicles be developed in the near future.
Economic benefits to be gained by the mass production of such power-packs as envisaged by SELNEC include a reduction in workshop space and the provision of replacement power-picks at strategic points such as bus stations where they could be easily stored, repaired and fitted.
In addition to the wheel-away power pack, Mr Harding is also considering the modernization of front-engined doubledeckers, which have proved more reliable in service, to facilitate their use on one-man services. A consultancy has, I understand, been engaged to devise a scheme which may involve fitting a new forward-entrance body to these chassis.
The bodies would have a full-width cab and no bulkhead between the cab and the saloon, and a close-fitting cowl would cover the engine. It is felt that savings of Li 000 a bus might well be achieved in maintenance, fuel and manpower costs compared with the new rear-engined buses with which SELNEC PTE admits it has had problems in maintaining adequate services.