:oach centre Itanned for ticester
21st May 1971
Page 29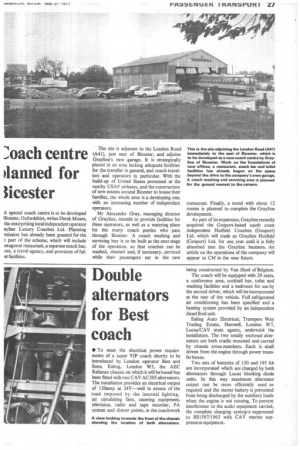 Page 29, 21st May 1971 —
:oach centre Itanned for ticester
Close
A special coach centre is to be developed Bicester, Oxfordshire, writes Derek Moses, the enterprising local independent operator ayline Luxury Coaches Ltd. Planning mission has already been granted for the t part of the scheme, which will include exagonal restaurant, a separate snack bar, ces, a travel agency, and provision of full et facilities. The site is adjacent to the London Road (A41), just east of Bicester, and adjoins Grayline's new garage. It is strategically placed in an area lacking adequate facilities for the traveller in general, and coach travellers and operators in particular. With the build-up of United States personnel at the nearby USAF airbases, and the construction of new estates around Bicester to house their families, the whole area is a developing one, with an increasing number of independent operators.
Mr Alexander Gray, managing director of Grayline, intends to provide facilities for these operators, as well as a watering place for the many coach parties who pass through Bicester. A coach washing and servicing bay is to be built as the next stage of the operation, so that coaches can be washed, cleaned and, if necessary, serviced while their passengers eat in the new
This is the site adjoining the London Road (A41) immediately to the east of Bicester, which is to be developed as a new coach centre by Grayline of Bicester. Work on the foundations of new offices, a restaurant, snack bar and toilet facilities has already begun on the space beyond the drive to the company's own garage. A coach washing and servicing area is planned for the ground nearest to the camera.
restaurant. Finally, a motel with about 12 rooms is planned to complete the Grayline development.
As part of its expansion, Grayline recently acquired the Gosport-based smith coast independent Hutfield Coaches (Gosport) Ltd. which will trade as Grayline Hutfield (Gosport) Ltd. for one year until it is fully absorbed into the Grayline business. An article on the operations of the company will appear in CM in the near future.