OPINIONS FROM OTHERS.
21st March 1922
Page 31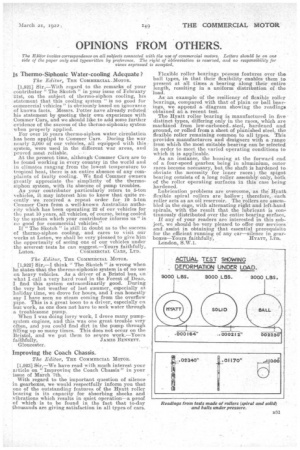 Page 31, 21st March 1922 —
OPINIONS FROM OTHERS.
Close
• The Elitor invites correspondence on all subjects connected with the use of commercial motors. Letters should be 072, one side of the paper only and typewritten by preference. The right of ...abbreviation is reserved, • and no responsibility for views expressed is accepted.
Js Thermo-Siphonic Water-cooling Adequate?
The Editor, THE COMMERCIAL -,MOTOR.
[1,921) regard to the remarks of your contributor " The Sketch" in your issue of February 21st, on the subject of thermo-siphon cooling, his . statement that this cooling system " is no good for commercial Vehicles " is obviously based on ignorance of known facts. Messrs. Potter have already refuted his statement by quoting their own experience with Comnaer Cars., and we should like to add some further evidence of the success of the thernao-siphonie system when properly applied.
For over 16 years thercao-siphon water circulation has been applied to Corruner Cars. During the war nearly 3,000 of our vehicles, all equipped with this system' were used in the different war areas, and proved most reliable. At the present time, although Comnaer Cars are to be found working in every country in the world and in climates ranging from the lowest temperature to tropical heat, there is an entire absence of any complaints of faulty cooling. We find Commer owners greatly appreciate tirosimplicity of the thermosiphon system, with its absence of pump troubles. As your contributor particularly refers. to 5-ton. vehicles, ii may interest him to know that quite recently we received a repeat order for 19 5-ton Oarnmer Cars from a well-known Australian authority which has been operating 22 of our vehicles for the past 10 years, all vehicles, of course, being cooled by the system which your contributor informs us " is no good for commercial vehicles." If "The Sketch "is still in doubt as to the success of thermo-siphon cooling,and cares to visit our works at Luton, we shall be very pleased to give him• the opportunity of seeing one of our vehicles under the severesttests he can suggest.—Yours faithfully,
Luton. . COMMERCIAL CARS, LTD.
The Editor, THE COMMERCIAL MOTOR.
• [1,9221 Sir,—I think " The Skoteh " is wrong when he states that the thermo-siphonie system is of no use on heavy vehicles. As a driver of a Bristol bus, cm • what I -call a very hard road in the Forest of Dean, find this system extraordinarily good. During the very hot weather of last summer, especially at holiday time, we drove for hours, and I can honestly say I have seen no steam coming from the overflow pipe. This is a great boon to a driver, especially en bus work, as one does not have to seek water through a troublesome pump. When I was doing lorry work, I drove many pumpsystem engines, and this was one great trouble very often, and you could find dirt in the pump through filling up so many times. This does not occur on the Bristol, and we put them to seTiere work.—Yere's JAMES BENNETT. Gloucester.
Improving the Coach Chassis.
The Editor, THE COMMERCIAL MOTOR.
[1,923) Sir,—We have read with much interest your article on "Improving the Coach Chassis " in your issue of March 7th.
With regard to the important question of silence in gearboxes, we would respectfully inform you that one of the outstanding features of the Hyatt roller bearing is its capacity for absorbing shocks and vibrations which results in quiet operation—a proof of which is to be found in the fact that to-clay thousands are giving satisfaction in all types of ears.
Flexible roller bearings possess features over the ball types, in that their flexibility enables them to present at all times a bearing along their entire length, resulting in a uniform distribution of the 'load.
As an example of the resiliency of flexible roller . bearings, compared with that of plain or ball bearings, we append a diagram showing the readings obtained at a. recent test.
The Hyatt roller bearing is manufactured in five distinct types, differing only in the races, which are machined from low-carboned, steel, hardened and ground, or rolled from a sheet of plaiaished steel, the flexible roller remaining common to all types. This provides manufacturers and designers with a range frona which the most suitable bearing can be selected in order to meet the varied operating conditions to which it is applicable.
As an instance, the housing at the forward end of a four-speed gearbox being in aluminium, outer races become necessary, but the shaft is hardened to obviate the necessity for inner races ; the spigot bearing eonsists of a long roller assembly only, both of the roller operating surfaces in this case being hardened.
Lubrication problems are overcome, as the Hyatt flexible spiral rollers are hollow; .therefore,. each roller acts as an oil reservoir. The rollers are assembled in the Cage, with alternating right and left-hand spirals, with the result that the lubricant is continuously distributed over the entire bearing surface.
• If any of your readers are interested in. this subject, we should be verypleased to offer our services. and assist in obtaining that essential prerequisite for tli4 efficient running of any car—silence in gear boxes—Yours faithfully, HYATT, Lin. London, S.W.1.