THE LATEST L.G.O.C. MOTOR COACH.
21st March 1922
Page 29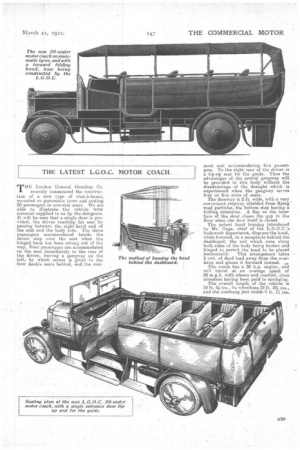 Page 29, 21st March 1922 —
THE LATEST L.G.O.C. MOTOR COACH.
Close
THE London General Omnibus Co. recently commenced the construction of a new type of char-a-hence, mounted on pneumatic tyres and seating 20 passengers M arm-rest seats. We S1.110 able to illustrate the vehicle from material supplied to us by the designers. It will be seen that a single door is provided, the driver 'reaching his seat by passing between the right-hand end of the seat and the body side. The three passengers accommodated beside the driver step over the seat when the hinged back has been swung -out of the way. Four passengers are accommodated on the seat immediately to the rear of the driver, leaving a gangway on the left, • by which access is given to the four double seats behind, and the rear
most seat accommodating five passengers. To the right rear of the driver is a tip-up seat for the guide. Thus the advantages of the central gangway will be provided in this body without the disadvantage of the draught which is experienced when the gangway serves four or five rows of seats.
The doorway is 2 ft. wide, with a very convenient stepWay shielded from flying mud particles, the bottom step having a folding extension. A flap on the inner face of the door closes the gap in tho floor when the door itself is closed.
The patent hood housing introduced by Mr. Gage, chief of the L.G.O.C.'s bodywork department, disposes the hood, when lowered, in a receptacle behind the dashboard, the rail which runs along both sides of the body being broken and 1-thapd to permit the hood to be placed. horizontally. This arrangement takes • 2 cwt. of dead load away from the overhang and places it forward instead. .."0.
The coach has a 30 h.p. engine, and will travel at an average speed of 20 m.p.h. with silence and comfort., close attention having been paid to springing.
Thc overall length of the vehicle is 19 ft. 4i ins., its wAeelbase 12 ft. 104 ins,, . and the overhang just naide 4 ft. 11.Ms,,,