No ordinary
21st June 2012
Page 30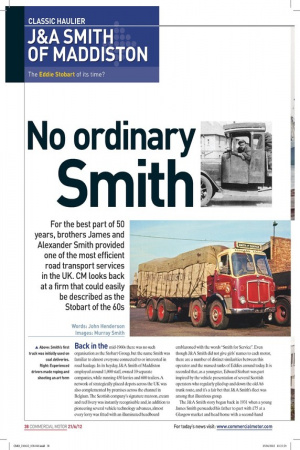 Page 31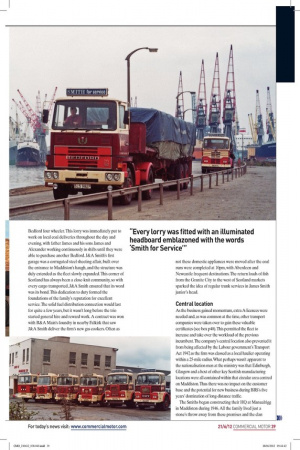 Page 32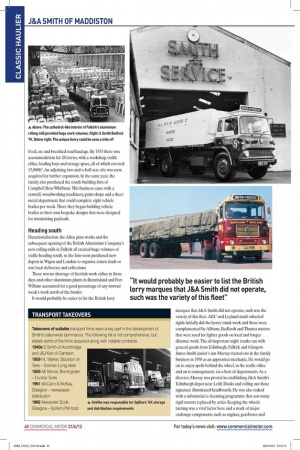 Page 33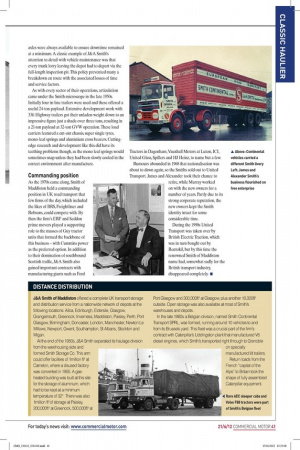 Page 30, 21st June 2012 —
No ordinary
Close
For the best part of 50 years, brothers James and Alexander Smith provided one of the most efficient road transport services in the UK. CM looks back at a firm that could easily be described as the Stobart of the 60s
Words: John Henderson Images: Murray Smith Back in the mid-1960s there was no such organisation as the Stobart Group, but the name Smith was familiar to almost everyone connected to or interested in road haulage. In its heyday, J&A Smith of Maddiston employed around 1,000 staff, owned 10 separate companies, while running 450 lorries and 600 trailers. A network of strategically placed depots across the UK was also complemented by premises across the channel in Belgium. The Scottish company's signature maroon, cream and red livery was instantly recognisable and, in addition to pioneering several vehicle technology advances, almost every lorry was fitted with an illuminated headboard emblazoned with the words "Smith for Service". Even though J&A Smith did not give girls' names to each motor, there are a number of distinct similarities between this operator and the massed ranks of Eddies around today. It is recorded that, as a youngster, Edward Stobart was part inspired by the vehicle presentation of several Scottish operators who regularly plied up and down the old A6 trunk route, and it's a fair bet that J&A Smith's fleet was among that illustrious group.
The J&A Smith story began back in 1931 when a young James Smith persuaded his father to part with £75 at a Glasgow market and head home with a second-hand Bedford four wheeler. This lorry was immediately put to work on local coal deliveries throughout the day and evening, with father James and his sons James and Alexander working continuously in shifts until they were able to purchase another Bedford. J&A Smith's first garage was a corrugated steel sheeting affair, built over the entrance to Maddiston's haugh, and the structure was duly extended as the fleet slowly expanded. This corner of Scotland has always been a close-knit community, so with every cargo transported, J&A Smith ensured that its word was its bond. This dedication to duty formed the foundations of the family's reputation for excellent service. The solid fuel distribution connection would last for quite a few years, but it wasn't long before the trio started general hire and reward work. A contract was won with R&A Main's foundry in nearby Falkirk that saw J&A Smith deliver the firm's new gas cookers. Often as not these domestic appliances were moved after the coal runs were completed at 10pm, with Aberdeen and Newcastle frequent destinations. The return loads of fish from the Granite City to the west of Scotland markets sparked the idea of regular trunk services in James Smith junior's head.
Central location
As the business gained momentum, extra A-licences were needed and, as was common at the time, other transport companies were taken over to gain these valuable certificates (see box p40). This permitted the fleet to increase and take over the workload of the previous incumbent. The company's central location also prevented it from being affected by the Labour government's Transport Act 1947, as the firm was classed as a local haulier operating within a 25-mile radius. What perhaps wasn't apparent to the nationalisation men at the ministry was that Edinburgh, Glasgow and a host of other key Scottish manufacturing locations were all contained within that circular area centred on Maddiston. Thus there was no impact on the customer base and the potential for new business during BRS's five years' domination of long-distance traffic.
The Smiths began constructing their HQ at Manualrigg in Maddiston during 1946. All the family lived just a stone's throw away from these premises and the clan lived, ate and breathed road haulage. By 1953 there was accommodation for 28 lorries, with a workshop, traffic office, loading bays and storage space, all of which covered 15,000ft2. An adjoining two-and-a-half acre site was soon acquired for further expansion. In the same year, the family also purchased the coach-building firm of Campbell Bros Whitburn. This business came with a sawmill, woodworking machinery, paint shops and a sheet metal department that could complete eight vehicle bodies per week. There they began building vehicle bodies to their own bespoke designs that were designed for maximising payloads.
Heading south
Denationalisation, the Alloa glass works and the subsequent opening of the British Aluminium Company's new rolling mills in Falkirk all created huge volumes of traffic heading south, so the firm soon purchased new depots in Wigan and London to organise return loads or sort local deliveries and collections.
There was no shortage of Scottish work either in those days and other aluminium plants in Burntisland and Fort William accounted for a good percentage of any normal week's work north of the border.
It would probably be easier to list the British lorry marques that J&A Smith did not operate, such was the variety of this fleet. AEC and Leyland multi-wheeled rigids initially did the heavy trunk work and these were complemented by Albions, Bedfords and Thames motors that were used for lighter goods on local and longerdistance work. The all-important night trunks ran with general goods from Edinburgh, Falkirk and Glasgow. James Smith junior's son Murray started out in the family business in 1958 as an apprentice mechanic. He would go on to enjoy spells behind the wheel, in the traffic office and on to management, via a host of departments. As a director, Murray was pivotal in establishing J&A Smith's Edinburgh depot near Leith Docks and rolling out those signature illuminated headboards. He was also tasked with a substantial re-licensing programme that saw many rigid motors replaced by artics. Keeping the wheels turning was a vital factor here and a stock of major exchange components, such as engines, gearboxes and axles were always available to ensure downtime remained at a minimum. A classic example of J&A Smith's attention to detail with vehicle maintenance was that every trunk lorry leaving the depot had to depart via the full-length inspection pit. This policy prevented many a breakdown en route with the associated losses of time and service factors.
As with every sector of their operations, articulation came under the Smith microscope in the late 1950s. Initially four in-line trailers were used and these offered a useful 24-ton payload. Extensive development work with 33ft Highway trailers got their unladen weight down to an impressive figure just a shade over three tons, resulting in a 21-ton payload at 32-ton GVW operation. These load carriers featured a cut-out chassis, super single tyres, mono-leaf springs and aluminium cross bearers. Cuttingedge research and development like this did have its teething problems though, as the mono leaf springs would sometimes snap unless they had been slowly cooled in the correct environment after manufacture.
Commanding position
As the 1970s came along, Smith of Maddiston held a commanding position in UK road transport that few firms of the day, which included the likes of BRS, Freightliner and Robsons, could compete with. By then the firm's ERF and Seddon prime movers played a supporting role to the masses of Guy tractor units that formed the backbone of this business – with Cummins power as the preferred option. In addition to their domination of southbound Scottish traffic, J&A Smith also gained important contracts with manufacturing giants such as Ford Tractors in Dagenham, Vauxhall Motors at Luton, ICI, United Glass, Spillers and HJ Heinz, to name but a few.
Rumours abounded in 1968 that nationalisation was about to dawn again, so the Smiths sold out to United Transport. James and Alexander took their chance to retire, while Murray worked on with the new owners for a number of years. Partly due to its strong corporate reputation, the new owners kept the Smith identity intact for some considerable time.
During the 1990s United Transport was taken over by British Electric Traction, which was in turn bought out by Rentokil, but by this time the renowned Smith of Maddiston name had, somewhat sadly for the British transport industry, disappeared completely. n