AMA urges bus review
21st June 1990
Page 8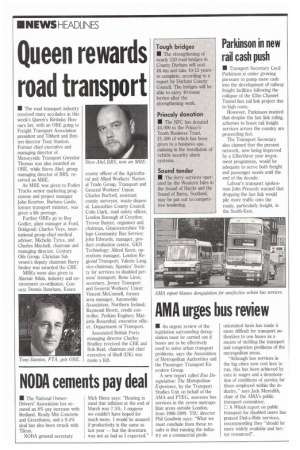 Page 8, 21st June 1990 —
AMA urges bus review
Close
• An urgent review of the legislation surrounding deregulation must be carried out if buses are to be effectively used to solve urban transport problems, says the Association of Metropolitan Authorities and the Passenger Transport Executive Group.
A new report called Bus Deregulation: The Metropolitan Experience, by the Transport Studies Unit on behalf of the AMA and PTEG, assesses bus services in the seven metropolitan areas outside London, from 1986-1989. TSU director Phil Goodwin says: "What we must conclude from these results is that running the industry on a commercial profit orientated basis has made it more difficult for transport authorities to use buses as a means of tackling the transport and congestion problems of the metropolitan areas.
"Although bus services in the big cities now cost less to run, this has been achieved by cuts in wages and a deterioration of conditions of service for those employed within the industry," says Jack Meredith, chair of the AMA's public transport committee.
0 A Which report on public transport for disabled users has praised Dial-a-Ride services, recommending they "should be more widely available and better resourced".