HISle; GALORL
21st June 1990
Page 54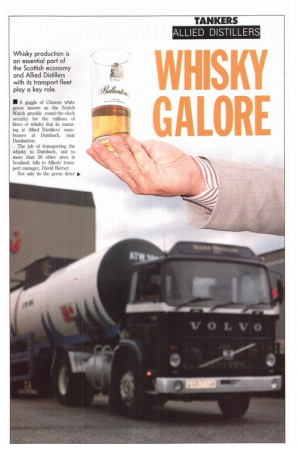 Page 56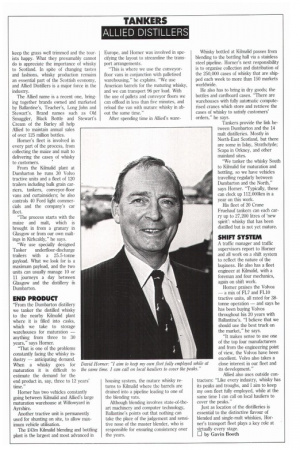 Page 54, 21st June 1990 —
HISle; GALORL
Close
Whisky production is an essential part of the Scottish economy and Allied Distillers with its transport fleet play a key role.
• A gaggle of Chinese white geese known as the Scotch Watch provide round-the-clock security for the millions of litres of whisky that lie maturing at Allied Distillers' warehouses at Dumbuck, near I lumbarton.
The job of transporting the whisky to Dumbuck, and to more than 20 other sites in Scotland, falls to Albeds' transport manager, David Homer.
Not only do the geese deter pe. keep the grass well trimmed and the tourists happy. What they presumably cannot do is appreciate the importance of whisky to Scotland. In spite of changing tastes and fashions, whisky production remains an essential part of the Scottish economy, and Allied Distillers is a major force in the industry.
The Allied name is a recent one, bringing together brands owned and marketed by Ballantine's, Teacher's, Long John and Stewart's. Brand names such as Old Smuggler, Black Bottle and Stewart's Cream of the Barley all help Allied to maintain annual sales of over 125 million bottles.
Homer's fleet is involved in every part of the process, from collecting the maize and malt to delivering the cases of whisky to customers.
From the Kilmalid plant at Dumbarton he runs 30 Volvo tractive units and a fleet of 120 trailers including bulk grain carriers, tankers, conveyor-floor vans and curtainsiders; he also controls 40 Ford light commercials and the company's car fleet.
"The process starts with the maize and malt, which is brought in from a granary in Glasgow or from our own maltings in Kirkcaldy," he says.
"We use specially designed Tasker underfloor-discharge trailers with a 25.5-tonne payload. What we look for is a maximum payload, and the two units can usually manage 10 or 11 journeys a day between Glasgow and the distillery in Dumbarton.
END PRODUCT
"From the Dumbarton distillery we tanker the distilled whisky to the nearby Kilmalid plant where it is filled into casks, which we take to storage warehouses for maturation — anything from three to 30 years," says Homer.
"That is one of the problems constantly facing the whisky industry — anticipating demand. When a whisky goes for maturation it is difficult to estimate the demand for the end product in, say, three to 12 years' time."
Homer has two vehicles constantly going between Kilmalid and Allied's large maturation warehouse at Willowyard in Ayrshire.
Another tractive unit is permanently used for shunting on site, to allow maximum vehicle utilisation.
The 243m Kilmalid blending and bottling plant is the largest and most advanced in Europe, and Homer was involved in specifying the layout to streamline the transport arrangements.
"This is where we use the conveyorfloor vans in conjunction with palletised warehousing," he explains. "We use American barrels for the maturing whisky, and we can transport 96 per load. With the use of pallets and conveyor floors we can offload in less than five minutes, and reload the van with mature whisky in about the same time."
After spending time in Allied's ware housing system, the mature whisky returns to Kilmalid where the barrels are drained into a pipeline leading to one of the blending vats.
Although blending involves state-of-theart machinery and computer technology, Ballantine's points out that nothing can take the place of the judgement and sensitive nose of the master blender, who is responsible for ensuring consistency over the years. Whisky bottled at Kilmalid passes from blending to the bottling hall via a stainless steel pipeline. Homer's next responsibility is to organise collection and distribution of the 250,000 cases of whisky that are shipped each week to more than 150 markets worldwide.
He also has to bring in dry goods; the bottles and cardboard cases. "There are warehouses with fully automatic computerised cranes which store and retrieve the cases of whisky to satisfy customers' orders," he says.
Tankers provide the link between Dumbarton and the 14 malt distilleries. Mostly in North-East Scotland, but there are some in Islay, Strathclyde; Scapa in Orkney, and other mainland sites.
"We tanker the whisky South to Kilmalid for maturation and bottling, so we have vehicles travelling regularly between Dumbarton and the North," says Homer. "Typically, these can clock up 112,000km in a year on this work.
His fleet of 20 Crane Fruehauf tankers can each carry up to 27,200 litres of `new spirit': whisky that has been distilled but is not yet mature.
SHIFT SYSTEM
A traffic manager and traffic supervisors report to Homer and all work on a shift system to reflect the nature of the bu§iness. He also has a fleet engineer at Kilmalid, with a foreman and four mechanics, again on shift work.
Homer praises the Volvos — a mix of FL7 and FLIO tractive units, all rated for 38tonne operation — and says he has been buying Volvos throughout his 20 years with Ballantine's. "1 believe that we should use the best truck on the market," he says.
"It makes sense to use one of the top four manufacturers and from the engineering point of view, the Volvos have been excellent. Volvo also takes a close interest in our fleet and its development."
Allied also uses outside contractors: "Like every industry, whisky has its peaks and troughs, and I aim to keep my own fleet fully employed, while at the same time I can call on local hauliers to cover the peaks."
Just as location of the distilleries is essential to the distinctive flavour of blended and single-malt whiskies, Horner's transport fleet plays a key role at virtually every stage.
0 by Gavin Booth