TALKING RUBBISH
21st June 1990
Page 128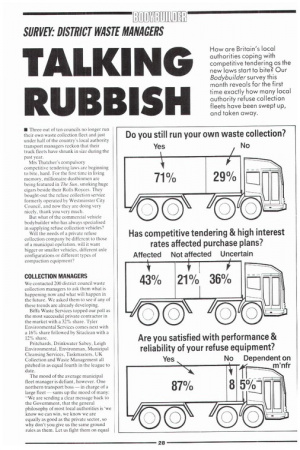 Page 129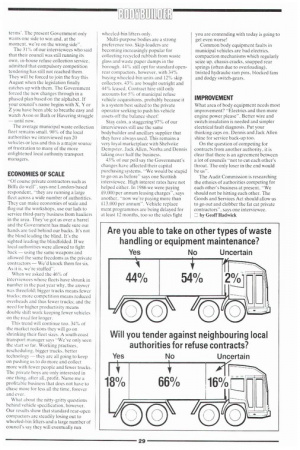 Page 128, 21st June 1990 —
TALKING RUBBISH
Close
• Three out of ten councils no longer run their own waste collection fleet and just under half of the country's local authority transport managers reckon that their truck fleets have shrunk in size during the past year.
Mrs Thatcher's compulsory
competitive tendering laws are beginning to bite, hard. For the first time in living memory, millionaire dustbinmen are being featured in The Sun, smoking huge cigars beside their Rolls Royces. They bought-out the refuse collection service formerly operated by Westminster City Council, and now they are doing very nicely, thank you very much.
But what of the commercial vehicle bodybuilder who has always specialised in supplying refuse collection vehicles?
Will the needs of a private refuse collection company be different to those of a municipal ope'ration, will it want bigger or smaller vehicles, different axle configurations or different types of compaction equipment?
COLLECTION MANAGERS
We contacted 200 district council waste collection managers to ask them what is happening now and what will happen in the future. We asked them to see if any of these trends are already developing.
Biffa Waste Services topped our poll as the most successful private contractor in the market with a 32% share. Tyler Environmental Services comes next with a 16% share followed by Sitaclean with a 12% share.
Pritchards, Drinkwater Sabey, Leigh Environmental, Environman, Municipal Cleansing Services, Taskmasters, UK Collection and Waste Management all pitched in as equal fourth in the league to date.
The mood of the average municipal fleet manager is defiant, however. One northern transport boss — in charge of a large fleet — sums up the mood of many: -We are sending a clear message back to the Government, that the general philosophy of most local authorities is 'we know we can win, we know we are equally as good as the private sector, so why don't you give us the same ground rules as them. Let us fight them on equal
How are Britain's local authorities coping with competitive tendering as the new laws start to bite? Our Bodybuilder survey this month reveals for the first time exactly how many local authority refuse collection fleets have been swept up, and taken away.
terms'. The present Government only wants one side to win and, at the moment. we're on the wrong side".
The 31% of our interviewees who said that their council was still running its own. in-house refuse collection service, admitted that compulsory competition tendering has still not reached them. They will be forced to join the fray this August when the legislation finally catches up with them. The Government forced the new changes through in a phased plan based on the alphabet. If your council's name begins with X, Y or Z you have been able to breathe easy and watch Avon or Bath or Havering struggle — until now.
The average municipal waste collection fleet remains small. 90% of the local authorities we interviewed run 20 vehicles or less and this is a major source of frustration to many of the more enlightened local authority transport managers.
ECONOMIES OF SCALE
"Of course private contractors such as Bifla do well". says one London-based respondent, "they are running a large fleet across a wide number of authorities. They can make economies of scale and flog out the workshops, use our lads to service third-party business from hauliers in the area. They've got us over a barrel and the Government has made sure our hands are tied behind our backs. It's not the blind leading the blind. It's the sighted leading the blindfolded. If we local authorities were allowed to fight back — using the same weapons and allowed the same freedoms as the private contractors— We'd knock them for six. As it is, we're stuffed".
When we asked the 46% of interviewees whose fleets have shrunk in number in the past year why, the answer was threefold; bigger trucks means fewer trucks; more competition means reduced overheads and thus fewer trucks; and the need for higher productivity means double shift work keeping fewer vehicles on the road for longer.
This trend will continue too. 34% of the market reckons they will go on shrinking their fleet sizes. A south coast transport manager says "We've only seen the start so far. Working practices, rescheduling, bigger trucks, better technology — they are all going to keep on pushing us to do more and collect more with fewer people and fewer trucks. The private boys are only interested in one thing. after all, profit. Name me a profitable business that does not have to chase more for less all the time, forever and ever.
What about the nitty-gritty questions behind vehicle specification, however. Our results show that standard rear-open compactors are steadily losing out to wheeled-bin lifters and a large number of council's say they will eventually run wheeled-bin lifters only.
Multi-purpose bodies are a strong preference too. Skip-loaders are becoming increasingly popular for collecting recycled rubbish from waste glass and waste paper dumps in the borough. 44% still opt for standard openrear compactors, however, with 34% buying wheeled-bin units and 12% skip collectors. 43% are bought outright and 44% leased. Contract hire still only accounts for 5% of municipal refuse vehicle acquisitions. probably because it is a system best suited to the private operator seeking to push his vehicle assets off the balance sheet!
Stay calm, a staggering 97% of our interviewees still use the same bodybuilder and ancillary supplier that they have always used. This remains a very loyal marketplace with Shelvoke Dempster, Jack Allen, Norha and Dennis taking over half the business.
43% of our poll say the Government's changes have affected their capital purchasing systems. "We would be stupid to go on as before" says one Scottish interviewee. High interest rates have not helped either. In 1986 we were paying £9,000 per annum leasing charges", says another. -now we're paying more than £13.000 per annum". Vehicle replace ment programmes are being delayed for at least 12 months, too so the sales fight
you are contending with today is going to get even worse!
Common body equipment faults in municipal vehicles are bad electrics, compaction mechanisms which regularly seize up. chassis cracks, snapped rear springs (often due to overloading), twisted hydraulic ram pins, blocked fans and dodgy switch-gears.
IMPROVEMENT
What area of body equipment needs most improvement? "Electrics and then more engine power please". Better wire and switch insulation is needed and simpler electrical fault diagnosis. Put your thinking caps on. Dennis and Jack Allen shine for service back-up too.
On the question of competing for contracts from another authority, it is clear that there is an agreement between a lot of councils "not to cut each other's throat. The only loser in the end would be us".
The Audit Commission is researching the ethnics of authorities competing for each other's business at present. "We should not be hitting each other. The Goods and Services Act should allow us to go out and clobber the fat cat private contractors", says one interviewee.
by Geoff Hadwick