TAKING TH POWDERS
21st June 1990
Page 124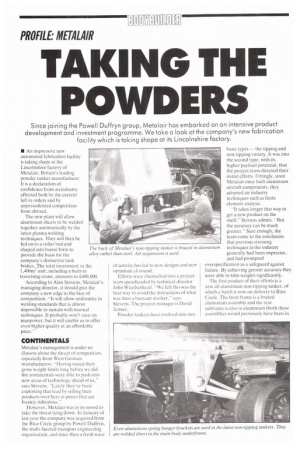 Page 125
Page 124, 21st June 1990 —
TAKING TH POWDERS
Close
Since joining the Powell Duffryn group, Metalair has embarked on an intensive product development and investment programme. We take a look at the company's new fabrication facility which is taking shape at its Lincolnshire factory.
• An impressive new automated fabrication facility is taking shape at the Lincolnshire factory of Metalair. Britain's leading powder tanker manufacturer. It is a declaration of confidence from an industry affected both by the current lull in orders and by unprecedented competition from abroad.
The new plant will allow aluminium sheets to be welded together automatically by the latest plasma welding techniques. They will then be fed on to a roller bed and shaped into barrel form to provide the basis for the company's distinctive tank bodies. The total investment in the 1,400m2 unit, including a built-in traversing crane, amounts to £400,000.
According to Alan Stevens. Metalair's managing director, it should give the company a new edge in the face of competition. -It will allow uniformity in welding standards that is almost impossible to sustain with manual techniques. It probably won't save on manpower, but it will enable us to offer even higher quality at an affordable price.
CONTINENTALS
Metalair's management is under no illusion about the threat of competition, especially from West German manufacturers, "1 laying raised their gross weight limits long before we did, the continentals were able to push into new areas of technology ahead of us.says Stevens. "Lately they've been exploiting that lead by selling their products over here at prices that arc frankly ridiculous."
However, Metalair was in no mood to take the threat lying down. In January of last year the company was acquired from the Blue Circle group by Powell Duffryn, the multi-faceted transport engineering organisation, and since then a fresh wave of activity has led to new designs and new optimism all round.
Efforts were channelled into a project team spearheaded by technical director John Weatherhead. "We felt this was the best way to avoid the distractions of what was then a buoyant market,says Stevens, The project manager is David Jenner.
Powder tankers have evolved into two basic types — the tipping and non-tipping variety. It was into the second type, with its higher payload potential, that the project team directed their initial efforts. Fittingly, since Metalair once built aluminium aircraft components, they adopted air industry techniques such as finite element analysis.
-It takes longer that way to get a new product on the shelf," Stevens admits. -But the accuracy can be much greater." Sure enough, the team came to the conclusion that previous stressing techniques in the industry generally had been imprecise, and had prompted overspecification as a safeguard against failure. By achieving greater accuracy they were able to trim weights significantly.
The first product of their efforts is a new all-aluminium non-tipping tanker, of which a hatch is now on delivery to Blue Circle. The front frame is a braced aluminium assembly and the rear subframe is also in aluminium (both these assemblies would previously have been in
steel). Depending on specification, the weight saving could be as much as a tonne.
Performance has been improved at the same time. Non-tipping tankers discharge their contents by a low-pressure aeration technique. In effect, air is mixed with the powder in measured quantities so that it will flow in semi-liquid form through ports at the base of the tank. By providing more precise control of the aeration, Metalair has been able to increase the discharge rate from under 1.5 tonnes per minute to as much as 2.5 tonnes.
Meanwhile, use of aluminium alloy has been increased further. Aluminium spring hanger brackets are now welded directly to the main tank subframe. "There aren't many more places where aluminium conceivably could be used."
EXTRA VOLUME
Metalair expects the move towards non-tipping tankers to continue. These offer extra volume, as well as weights of up to 26 tonnes (compared with 24 tonnes on a typical tipping model). However, they remain more costly to produce. Features such as the weir plates between the discharge ports require accurate fabrication and skilled welding techniques. Moreover, these tankers are not quite as flexible in application as rearend discharge models, which can usually be cleaned by high-pressure hose in order to allow a greater variation in the products carried.
About half the powder tanker trailer market is still made up of tipping models, which are particularly popular with hireand-reward operators who need flexibility. In recognition of this. Metalair is now turning its design attention to these. Historically it has mounted trailer models on proprietary steel chassis from makers such as Weightmann and AHP. However, in association with British Alcan it has now developed an allaluminium chassis using extruded tubular main rails with special T-section keyways to allow variation in the positioning of crossmembers.
The prototype is operating successfully for an operator called Singleton Birch. So far it remains unique, but Stevens predicts that this will change. ''There are only about 30 aluminium trailer chassis in service in the whole of the UK, but on the
An all-aluminium non-tipping tanker takes shape. Radiused aluminium-alloy bracing at the front has replaced steel to save weight.
Continent 80% of powder tank trailers have them. There are bound to be moves that way here."
Powder tankers operate at a pressure of around 2 bar, which makes them safety-critical. "I'm pleased to say we've never had a tanker blow,says Stevens. Nevertheless, as chairman of the Society of Motor Manufacturers and Traders' British Road Tanker Manufacturers group he would like to see tougher standards imposed. "We've written a draft code of practice on design, hut it's an uphill battle to get it adopted."
He adds: "In Britain we always seem to be catching up with other people's standards. We should be setting high standards ourselves."
VOLATILE
In spite of the volatile market, Metalair is still turning out around 250 bodies a year, and employs a staff of 160. In addition to its headquarters at Sutton Bridge, near Spalding it also has service bases at Wokingham in Surrey and Middlewieh, Cheshire, as well as service facilities at Uddingston near Glasgow.
It could be the year end before Metalair's new fabrication unit is fully on stream. However, by then other new products will probably have been unveiled by the project team. Metalair is in no mood to see its dominance in this specialist market dwindling.
0 by Peter Rowlands