PROFILE NENE TRAILERS
21st June 1990
Page 120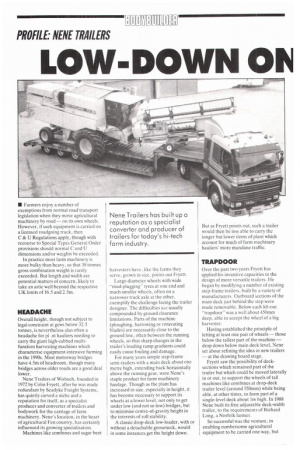 Page 121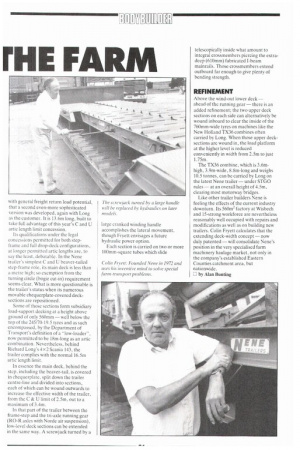 Page 120, 21st June 1990 —
PROFILE NENE TRAILERS
Close
LOW-DOWN ON FARM
• Farmers enjoy a number of exemptions from normal road transport legislation when they move agricultural machinery by road — on its own wheels. However, if such equipment is carried on a licensed roadgoing truck, then C & U Regulations apply, though with recourse to Special Types General Order provisions should normal C and U dimensions and/or weights be exceeded.
In practice most farm machinery is more bulky than heavy. so that 38 tonnes gross combination weight is rarely exceeded. But length and width are potential matters of concern, likely to take an artic well beyond the respective UK limits of 16.5 and 2.5m.
HEADACHE
Overall height, though not subject to legal constraint at gcws below 32.5 tonnes, is nevertheless also often a headache for pl .nt hauliers needing to carry the giant high-cabbed multifunction harvesting machines which characterise equipment-intensive farming in the 1990s. Most motorway bridges have 4.5m of headroom, though many bridges across older roads are a good deal lower.
Nene Trailers of Wisbech, founded in 1972 by Colin Fryett, after he was made redundant by Seadyke Freight Systems, has quietly carved a niche and a reputation for itself, as a specialist producer and converter of trailers and bodywork for the carriage of farm machinery. Nene's location, in the heart of agricultural Fen country, has certainly influenced its growing specialisation.
Machines like combines and sugar beet harvesters have, like the farms they serve, grown in size, points out Fryett.
Large-diameter wheels with wide "mud-plugging" tyres at one end and much smaller wheels, often on a narrower track axle at the other, exemplify the challenge facing the trailer designer. The difficulties ale usually compounded by ground clearance limitations. Parts of the machine (ploughing, harrowing or rotavating blades) are necessarily close to the ground line, often between the running wheels, so that sharp changes in the trailer's loading ramp gradients could easily cause fouling and damage.
For many years simple step-frame semi-trailers with a main deck about one metre high, extending back horizontally above the running gear, were Nene's staple product for farm machinery haulage. Though as the plant has increased in size, especially in height, it has become necessary to support its wheels at a lower level, not only to get under low (and not so low) bridges, but to minimise centre-of-gravity height in the interests of roll stability.
A classic drop-deck low-loader, with or without a detachable gooseneck, would in some instances get the height down. But as Fryett points out, such a trailer would then be less able to carry the longer but lower items of plant which account for much of farm machinery hauliers' more mundane traffic.
TRAPDOOR Over the past two years Fryett has applied his inventive capacities to the design of more versatile trailers. He began by modifying a number of existing step-frame trailers, built by a variety of manufacturers. Outboard sections of the main deck just behind the step were made removable. Below each lift-out "trapdoorwas a well about 450mm deep, able to accept the wheel of a big harvester.
Having established the principle of letting at least one pair of wheels — those below the tallest part of the machine — drop down below main deck level, Nene set about refining the idea in new trailers — at the drawing board stage.
Fryett saw the possibility of decksections which remained part of the trailer but which could be moved laterally in or out, to support the wheels of tall machines like combines at drop-deck trailer level (around 550mm) while being able, at other times, to form part of a single-level deck about lm high. In 1988 Nene built its first adjustable deck-width trailer, to the requirements of Richard Long, a Norfolk farmer.
So successful was the venture, in enabling cumbersome agricultural equipment to be carried one way, but with general freight return load potential, that a second even-more sophisticated version was developed, again with Long as the customer. It is 13.6m long, built to take full advantage of this year's C and U artic length limit concession.
Its qualifications under the legal concessions permitted for both stepframe and full drop-deck configurations, at longer permitted artic lengths are, to say the least, debatable. In the Nene trailer's simplest C and U beaver-tailed step-frame role, its main deck is less than a metre high; so exemption from the turning circle (bogie cut-in) requirement seems clear. What is more questionable is the trailer's status when its numerous movable chequerplate-covered decksections are repositioned.
Some of those sections form subsidiary load-support decking at a height above ground of only 560mm — well below the top of the 245/70-19.5 tyres and as such encompassed, by the Department of Transport's definition of a "low-loader", now permitted to be 18m-long as an artic combination. Nevertheless, behind Richard Long's 4x2 Scania 143, the trailer complies with the normal 16.5m artic length limit.
In essence the main deck, behind the step. including the beaver-tail, is covered in chequerplate, split down the trailer centre-line and divided into sections, each of which can be wound outwards to increase the effective width of the trailer, from the C & U limit of 2.5m, out to a maximum of 3.4m.
In that part of the trailer between the frame-step and the tri-axle running gear (RO-R axles with Norde air suspension), low-level deck sections can be extended in the same way. A screwjack turned by a large cranked winding handle accomplishes the lateral movement. though Fryett envisages a future hydraulic power option.
Each section is carried on two or more 100mm-square tubes which slide
Colin Fryett: Founded Nene in 1972 and uses his inventive mind to solve special farm-transport problems.
telescopically inside what amount to integral crossmembers piercing the extradeep (610mm) fabricated I-beam mainrails. Those crossmembers extend outboard far enough to give plenty of bending strength.
REFINEMENT
Abtive the id-out lower deck — ahead of the running gear — there is an added refinement; the two upper deck sections on each side can alternatively be wound inboard to clear the inside of the 760mm-wide tyres on machines like the New Holland TX36 combines often carried by Long. When those upper decksections are wound in, the load platform at the higher level is reduced conveniently in width from 2.5m to just 1.75m.
The TX36 combine, which is 3.6mhigh, 3.9m-wide, 8.8m-long and weighs 10.5 tonnes, can be carried by Long on the latest Nene trailer — under STGO rules—at an overall height of 4.5m, clearing most motorway bridges.
Like other trailer builders Nene is feeling the effects of the current industry downturn. Its 560m2 factory at Wisbech and 15-strong workforce are nevertheless reasonably well occupied with repairs and modifications as well as on building new trailers. Colin Fryett calculates that the extending deck-width concept — now duly patented — will consolidate Nene's position in the very specialised farm machinery haulage market, not only in the company's established Eastern Counties catchment area, but nationwide.
U by Alan Bunting