THE RIGHT MIX
21st June 1990
Page 116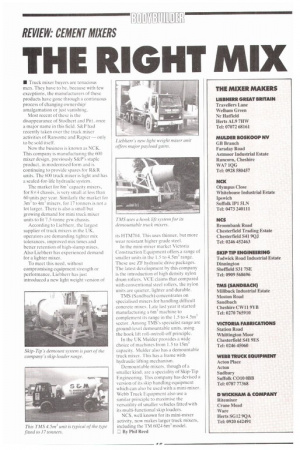 Page 116, 21st June 1990 —
THE RIGHT MIX
Close
• Truck mixer buyers are tenacious men. They have to be, because with few exceptions, the manufacturers of these products have gone through a continuous process of changing ownership/ amalgamation or just vanishing.
Most recent of these is the disappearance of Stodhert and Pitt. once a major name in this field. S&P had recently taken over the truck mixer activities of Ransome and Rapier — only to be sold itself.
Now the business is known as NCK. This company is manufacturing the 600 mixer design, previously S&P's staple product, in modernised form and is continuing to provide spares for R&R units. The 600 truck mixer is light and has a sealed-for-life hydraulic system.
The market for 8m' capacity mixers, for 8x4 chassis, is very small at less than 60 units per year. Similarly the market for 3m' to 4m' mixers, for 17 tonners is not a lot larger. There is also a small but growing demand for mini truck mixer units to fit 7.5-tonne gvw chassis.
According to Eiebherr. the largest supplier of truck mixers in the UK, operators are demanding tighter mix tolerances, improved mix times and better retention of high-slump mixes. Also Liebherr has experienced demand for a lighter mixer.
To meet this need, without compromising equipment strength or performance. Liebherr has just introduced a new light weight version of its HTM704. This uses thinner, but more wear resistant higher grade steel.
In the mini-mixer market Victoria Construction Equipment offers a range of smaller units in the 1.5 to 4.5m' range. These use ZF hydraulic drive packages. The latest development by this company is the introduction of high density nylon drum rollers. VCE claims that compared with conventional steel rollers, the nylon units are quieter, lighter and durable.
TMS (Sandbach) concentrates on specialised mixers for handling difficult concrete mixes. Late last year it started manufacturing a 6m3 machine to complement its range in the 1.5 to 4.5m3 sector. Among TIMS's specialist range are ground-level demountable units, using the hook lift roll-on/roll-off principle.
In the UK Mulder provides a wide choice of machines from 1.5 to 15m' capacity. Mulder also has a demountable truck mixer. "fhis has a frame with hydraulic lifting mechanism.
Demountable mixers, though of a smaller kind, are a speciality of Skip-Tip Engineering, This company has devised a version of its skip handling equipment which can also he used with a mini-mixer. Webb Truck Equipment also use a similar principle to maximise the versatility of smaller vehicles fitted with its multi-functional skip loaders.
NCS, well known for its mini-mixer activity, now makes larger truck mixers, including the TM 6024 6m3 model.
By Phil Reed