Telford yields a host of delights
21st June 1990
Page 112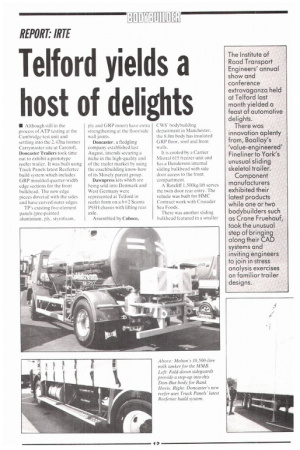 Page 113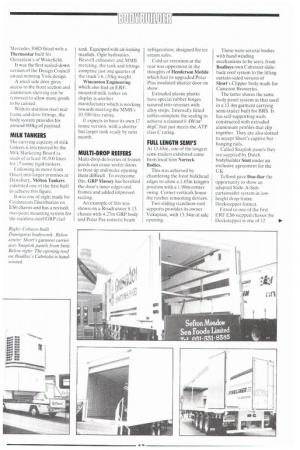 Page 114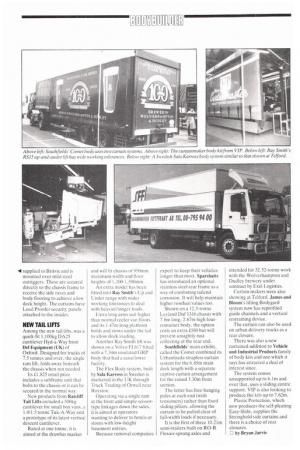 Page 112, 21st June 1990 —
Telford yields a host of delights
Close
• Although still in the process of ATP testing at the Cambridge test unit and settling into the 2.43ha former Carrymaster site at Carcroft, Doncaster Trailers took time Out to exhibit a prototype reefer trailer. It was built using Truck Panels latest Reefertec build system which includes GRP moulded quarter-width edge sections for the front bulkhead. The new edge pieces dovetail with the sides and have curved outer edges.
TP's existing five-element panels (pre-painted aluminium, ply, styrofoam, ply and GRP inner) have extra strengthening at the floor/side wall joints.
Doncaster, a fledgling company established last August, intends securing a niche in the high-quality end of the trailer market by using the coachbuilding know-how of its Mosely parent group.
Dawnpress kits which are being sold into Denmark and West Germany were represented at Telford in reefer form on a 6x2 Scania P93H chassis with lifting rear axle.
Assembled by Coboco, CWS' bodybuilding department in Manchester, the 8.0m body has insulated GRP floor, roof and front walls.
It is cooled by a Carrier Mistral 615 freezer unit and has a Henderson internal sliding bulkhead with side door access to the front compartment.
A Ratcliff 1,500kg lift serves the twin door rear entry. The vehicle was built for HMC Contract work with Crusader Sea Foods.
There was another sliding bulkhead featured in a smaller
Mercedes 308D fitted with a Thermostar built for Oesterlein's of Wakefield, It was the first scaled-down version of the Design Council award-winning York design.
A small side door gives access to the front section and aluminium shelving can he removed to allow more goods to be carried.
With its stainless steel rear frame and door fittings, the body system provides for around 800kg of payload.
MILK TANKERS
The carrying capacity of milk tankers is interpreted by the Milk Marketing Board as loads of at least 10,500 litres for 17 tonne rigid tankers.
Following its move from Ossett into larger premises at Dewsbury, Melton Tankers exhibited one of the first built to achieve this figure.
It was one of eight made for Coldstream Distribution on ES6 chassis and has a revised, two-point mounting system for the stainless steel/GRP clad tank. Equipped with air-locking manlids. Ogle hydraulics, Reavell exhauster and MMB metering, the tank and fittings comprise just one quarter of the truck's 6,150kg weight.
Wincanton Engineering which also had an ERFmounted milk tanker on display is another manufacturer which is working towards meeting the MMB's 10,500 litre ruling.
It expects to have its own 17 tonne version, with a shorter but larger tank ready by next month.
MULTI-DROP REEFERS
Multi-drop deliveries of frozen goods can cause reefer doors to frost Lip and make opening them difficult. To overcome this, GRP Massey has bevelled the door's inner edges and frames and added improved sealing.
An example of this was shown on a Roadrunner 8.13 chassis with 4.27m GRP body and Polar Pac eutectic beam refrigeration, designed for ice cream sales.
Cold air retention at the rear was uppermost in the thoughts of Henderson Mobile which had its upgraded Polar Plus insulated shutter door on show.
Extruded plastic planks have special rubber hinges secured into recesses with alloy strips. Internally fitted cables complete the sealing to achieve a claimed 0.4W/nrdegC that just meets the ATP class C rating.
FULL LENGTH SEMI'S
At 13.65m, one of the longest semi-trailers exhibited came from local firm Norteck Bodies.
This was achieved by chamfering the front bulkhead edges to allow a 1.65m kingpin position with a 1.98m corner swing. Corner verticals house the ratchet tensioning devices.
Two sliding stanchion roof supports provides its owner Vekaplast, with 13.34m of side opening. There were several bodies with hand winding mechanisms to be seen, from Boalloys own Cabriolet slidehack roof system to the lifting curtain-sided version of Short's Clipper body made for Cameron Breweries.
The latter shares the same body panel system as that used in a 13.4m garment carrying semi-trailer built for BRS. It has self-supporting walls constructed with extruded aluminium profiles that clip together. They are also slotted to accept Short's captive bar hanging rails.
Called Snaplok panels they are supplied by Dutch bodybuilder Smit under an exclusive agreement for the UK.
Telford gave Don-Bur the opportunity to show an adapted Slide-A-Side curtainsider system in lowheight drop-frame Deckstepper format.
Fitted to one of the first ERF ES6 stepped chassis the Deckstepper is one of 12 4 supplied to Britvic and is mounted over mild steel outriggers. These are secured directly to the chassis frame to receive the side raves and body flooring to achieve a low deck height. The curtains have Load Proofer security panels attached to the insides.
NEW TAIL LIFTS
Among the new tail lifts, was a quick-fit 1,100kg DA25 cantilever Hyd-a-Way from Del Equipment (UK) of Oxford. Designed for trucks of 7.5 tonnes and over, the single ram lift, folds away beneath the chassis when not needed.
Its £1,825 retail price includes a subframe unit that bolts to the chassis or it can be secured in the normal way.
New products from Ratcliff Tail Lifts included a 500kg cantilever for small box vans, a 1.0/1.5 tonne Tuk-A-Way and a prototype of its latest vertical descent cantilever.
Rated at one tonne, it is aimed at the drawbar market and will fit chassis of 950mm maximum width and floor heights of 1,100-1,500mm.
An extra model has been fitted into Ray Smith's lip and Under range with wider working tolerances to deal with heavier/longer loads.
Fxtra long arms suit higher than normal reefer van floors and its I.47m-long platform holds and stows under the tail to allow dock loading.
Another Ray Smith lift was shown on a Volvo FI.617 fitted with a 7.34m insulated GRP body that had a raise/lower facility.
The Flex Body system, built by Sala Karross in Sweden is marketed in the UK through Truck Trading of Orwell near Royston.
Operating via a single ram at the front and simple scissortype linkages down the sides, it is aimed at operators wanting to deliver to hotels or stores with low-height basement entries.
Because removal companies expect to keep their vehicles longer than most. Sparshatts has introduced an optional stainless steel rear frame as a way of combating tailend corrosion. It will help maintain higher residual values too.
Shown on a 12.5-tonne Leyland Daf 1316 chassis with 7.6m long, 2.67m high fourcontainer body, the option costs an extra £580 but will prevent unsightly rust collecting at the rear end.
Southlields main exhibit, called the Comet combined its Urban loada strapless curtain system for the 6.85m main deck length with a separate captive curtain arrangement for the raised 3.30m front section.
The latter has free-hanging poles at each end (with tensioners) rather than fixed sliding pillars, allowing the curtain to be pulled clear of full-width loads if necessary.
It is the first of three 10.21m semi-trailers built on RO-R Flexair-sprung axles and intended for 32.52-tonne work with the Wolverhampton and Dudley brewery under contract by Exel Logistics.
Curtain makers were also showing at Telford. James and Bloom's lifting Bodygard system now has reprofiled guide channels and a vertical restraining device.
The curtain can also he used on urban delivery trucks as a rear closure.
There was also a new curtained addition to Vehicle and Industrial Products family of body kits and one which it says has attracted a deal of interest since.
The system comes unsupported up to 6.1m and over that, uses a sliding centre support. VIP is also looking to produce the kits up to 7.62m.
Plastic Protection, which now produces the self-pleating Easy-Slide, supplies the Stronghold side curtains and there is a choice of rear closures.
El by Bryan Jarvis