International rescue
21st June 1990
Page 110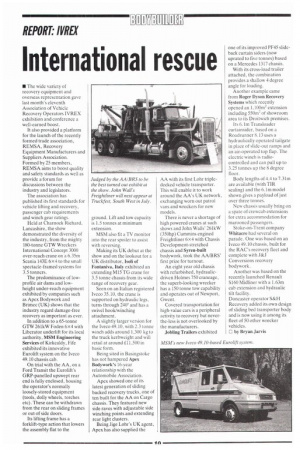 Page 110, 21st June 1990 —
International rescue
Close
• The wide variety of recovery equipment and overseas representation gave last month's eleventh Association of Vehicle Recovery Operators IVREX exhibition and conference a well-earned boost.
It also provided a platform for the launch of the recently formed trade association, REMSA, Recovery Equipment Manufacturers and Suppliers Association. Formed by 25 members, REMSA aims to boost quality and safety standards as well as provide a forum for discussions between the industry and legislators.
The association has published its first standards for vehicle lifting and recovery, passenger cab requirements and winch gear ratings.
Held at Charnock Richard, Lancashire, the show demonstrated the diversity of the industry, from the mighty 180-tonne GTW Wreckers International Concept 3000 over-reach crane on a 6,35m Scania 143E 6x4 to the small spectacle-framed systems for 3.5 tonners.
The predominance of lowprofile air dams and lowheight under-reach equipment exhibited by companies such as Apex Bodywork and Brimec (UK) shows that the industry regard damage-free recovery as important as ever.
In addition to a 65-tonne GTW 261kW Foden 6x4 with Liberator underlift for its local authority, MSM Engineering Services of Kirkcaldy, Fife exhibited its innovative Eurolift system on the Iveco 49.10 chassis cab.
On trial with the AA, on a Ford Transit the Eurolift's GRP-panelled upswept rear end is fully enclosed, housing the operator's normally loosely-stored equipment (tools, dolly wheels, torches etc). These can be withdrawn from the rear on sliding frames or out of side doors.
Its lifting frame has a forklift-type action that lowers the assembly flat to the ground. Lift and tow capacity is 1.5 tonnes at minimum extension.
MSM also fit a TV monitor into the rear spoiler to assist with reversing.
Making its UK debut at the show and on the lookout for a UK distributor, Isoli of Fontaniva, Italy exhibited an extending M15 TG crane for 3.5 tonne chassis from its wide range of recovery gear.
Seen on an Italian registered lveco 35.10, the crane is supported on hydraulic legs, turns through 240° and has a swivel hook/winching attachment.
A slightly larger version for the Iveco 49.10, with 2.3 tonne winch adds around 1,300 kg to the truck kcrbweight and will retail at around £11,500 in basic form.
Being sited in Basingstoke has not hampered Apex Bodywork's 16-year relationship with the Automobile Association.
Apex showed one of its latest generation of sliding backed recovery trucks, one of ten built for the AA on Cargo chassis. They featured new side raves with adjustable side winching points and extending rear light clusters.
Being Jige Lahr's UK agent, Apex has also supplied the AA with its first Lohr tripledecked vehicle transporter. This will enable it to work around the AA's UK network, exchanging worn out patrol vans and wreckers for new models.
There is never a shortage of high powered cranes at such shows and John Walls' 261kW (350hp) Cummins engined Freightliner 6x4 with Chassis Development-stretched chassis and Syren-built bodywork, took the AAJBRS' first prize for turnout.
An eight year old chassis with refurbished, hydraulicdriven Holmes 750 craneage, the superb-looking wrecker has a 150 tonne tow capability and operates out of Newport, Gwent.
Covered transportation for high-value cars is a peripheral activity to recovery but neverthe-less is not overlooked by the manufacturers.
Jobling Trailers exhibited one of its improved PF45 slideback curtain siders (now uprated to five tonnes) based on a Mercedes 1317 chassis.
With its cross-load trailer attached, the combination provides a shallow 4 degree angle for loading.
Another example came from Roger Dyson Recovery Systems which recently opened an 1.100m2 extension including 550m2 of showroom area to its Droitwich premises.
Its 6.1m Transloader curtainsider, based on a Roadrunner 8.13 uses a hydraulically operated tailgate in place of slide-out ramps and an air-operated top flap. The electric winch is radiocontrolled and can pull up to 3.25 tonnes up the 8 degree floor.
Body lengths of 4.4 to 7.31m are available (with TIR sealing) and the 6.1m model shown gives a payload of just over three tonnes.
New chassis usually bring on a spate of crewcab extensions for extra accommodation for marooned passengers.
Stoke-on-Trent company Whitacre had several on parade. One was based on an Iveco 49.10 chassis, built for the RAC's recovery fleet and complete with J&J Conversions recovery bodywork.
Another was based on the recently launched Renault S160 Midliner with a 1.63m cab extension and hydraulic tilt facility.
Doncaster operator S&H Recovery added its own design of sliding bed transporter body and is now using it among its fleet of 50 other wrecker vehicles.
E by Bryan Jarvis