Briefly .1
21st June 1990
Page 104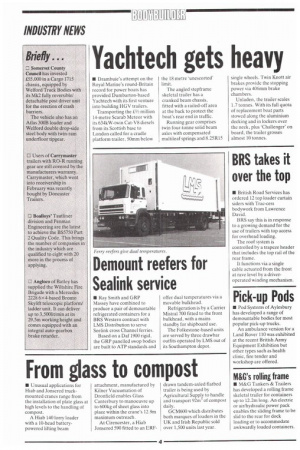 Page 104, 21st June 1990 —
Briefly .1
Close
El Somerset County Council has invested £55,000 in a Cargo 1715 chassis, equipped by Welford Truck Bodies with its Mk2 fully reversible/ detachable post driver unit for the erection of crash barriers.
The vehicle also has an Atlas 300B loader and Welford double drop-side steel body with twin-ram underfloor tipgear.
0 Users of Carrymaster trailers with RO-R running gear are still covered by the manufacturers warranty. Carrymaster, which went into receivership in February was recently bought by Doncaster Trailers.
O Boalloys' Tautliner division and Penman Engineering are the latest to achieve the BS5750 Part 2 Quality Code. This brings the number of companies in the industry which are qualified to eight with 20 more in the process of applying.
o Angloco of Batley has supplied the Wiltshire Fire Brigade with a Mercedes 2228 6X4-based Bronto Skylift telescopic platform/ ladder unit. It can deliver up to 3,5001it/min at its 29.5m working height and comes equipped with an integral auto-gearbox brake retarder.