"Pity" for M.T. Co. Alleged
21st June 1935
Page 54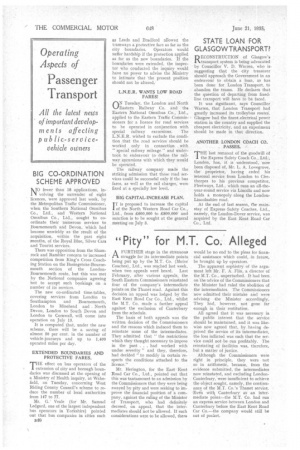 Page 54, 21st June 1935 —
"Pity" for M.T. Co. Alleged
Close
Keywords :
AFURTHER stage in the strenuous . struggle for its intermediate points being put up by the •M.T. Co. (Motor Coaches), Ltd., was reached last week, when two appeals were heard. Last February, after various appeals, the South Eastern Commissioners reinstated four of the company's intermediate points on the Thanet road. Against this decision an appeal was lodged by the East Kent Road Car Co., Ltd., whilst the M.T. Co. madea further appeal against the exclusion of Canterbury from the schedule.
The basis of both appeals was the written decision of the Commissioners and the reasons which induced them to reinstate some of the intermediates. They admitted that " the restrictions which they thought necessary to impose in the past . . . had worked with undue severity" and they, therefore, had decided "to modify in certain respects the conditions attached to the licence."
Mr. Herington, for the East Kent Road Car Co., Ltd., pointed out that this was tantamount to an admission by the Commissioners that they were being swayed by pity and were seeking to improve the financial position of a company, against the ruling of the Minister of Transport, who had definitely decreed, on appeal, that the intermediates should not be allowed. If such considerations were to be allowed, there
would he no end to the pleas for financial assistance which could, in future, be brought up by operators.
The apparent sophistry of the argument left Mr. F. A. 171M, a director of the M.T. Co., unperturbed. It had been on the advice of the Commissioners that the Minister had ruled the abolition of the intermediates. The Commissioners now admitted their mistake and were advising the Minister accordingly. They had, however, not gone far enough in their restitution.
All agreed that it was necessary in the public interest that the service should be maintained, and it was likewise now agreed that, by having deprived the service of its intermediates, the loss inflicted was such that the service could not be run profitably. The reinstating of facilities was, therefore, but a matter of justice.
Although the Commissioners were right in principle, they were not so in arithmetic, because, from the evidence submitted, the intermediates now reinstated, and excluding LondonCanterbury, were insufficient to achieve the object sought, namely, the continuance of the M.T. Co.'s Thanet service. Even with Canterbury as. an intermediate point—the M.T. Co. had run an express service between London and Canterbury before the East Kent Road Car Co.—the company would still be out of pocket.