AIR TRANSPORT N EWS
21st June 1935
Page 53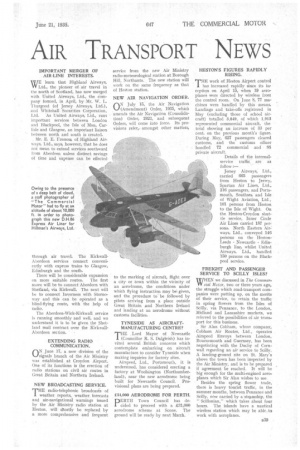 Page 53, 21st June 1935 —
AIR TRANSPORT N EWS
Close
IMPORTANT MERGER OF AIR-LINE INTERESTS.
WE learn that Highland Airways, W Ltd., the pioneer of air travel in the north of Scotland, has now merged with United Airways, Ltd., the Company formed, in April, by Mr. W. L. Thurgood (of Jersey Airways, Ltd.), and Whitehall Securities Corporation, Ltd. As United Airways, Ltd., runs important services between London and Blackpool, the isle of Man, Carlisle and Glasgow, an important liaison between north and south is created.
Mr. E. E. Fressou, of Highland Airways, Ltd., Ltd., says, however, that he does not mean to extend services southward from Aberdeen unless distinct savings of time and expense can be effected
through air travel. The KirkwallAberdeen services connect conveniently with express trains to Glasgow, Edinburgh and the south.
There will be considerable expansion on more suitable routes.. The first move Will be to conneet Aberdeen with Shetland, via Kirkwall. The next will be to connect Inverness with Stornoway and this can be operated as a blind-flying route, with the help of radio.
The Aberdeen:Wick-Kirkwall service is running smoothly and well, and we understand it is to be given the Shetland mail contract over the Kirk wall Aberdeen section.
EXTENDING RADIO COMMUNICATION.
ONJune 17, a new • division of the signals branch of the Air Ministry was established at Croydon Airport. One of its functions is the erection of" radio stations on civil air routes in Great Britain and Northern Ireland.
NEW BROADCASTING SERVICE.
THE radio-telephonic broadcasts of weather reports, weather forecasts and air-navigational warnings issued by the Air Ministry radio station at Heston, will shortly be replaced by a more comprehensive and frequent
service from the new Air Ministry radio-meteorological station at Borough Hill, Northants. The new station will work on the same frequency as that of Heston station.
NEW AIR NAVIGATION ORDER.
ON July 15, the Air Navigation (Amendment) Order, 1985, which amends the Air Navigation (Consolidation) Order, 1923, and subsequent Orders, will come into force. Its provisions refer,amongst other matters,
to the marking of aircraft, flight over a cityor town within the vicinity, of an aerodrome, the conditions under which flying instruction may be. given, and the procedure to be followed by pilots arriving from a place outside Great Britain. and Northern Ireland and landing at an aerodrome without customs facilities.
TYNESIDE AS AIRCRAFT. MANUFACTURING CENTRE?
THE Lord Mayor of Newcastle (Councillor R. S. Dalgleish) has invited several British concerns which contemplate embarking on aircraft manufacture to consider Tyneside when making inquiries for factory sites.
Airspeed, Ltd., Portsmouth, it is understood, has considered erecting a factory at Woolsington (Northumberland), near the new aerodrome being built for Newcastle Council. Provisional plans are being prepared.
/31,000 AERODROME FOR PERTH. DERTH Town Council has de
cided to proceed with a £31,000 aerodrome scheme at Scone. The ground will be ready by next 'March. HESTON'S FIGURES RAPIDLY RISING.
THE work of Heston Airport control has increased rapidly since its inception on April 15, when 19 aeroplanes were directed by wireless from the control room. On June 8, 77 machines were handled by this means. Landings and take-oils registered in May (excluding those of school aircraft) totalled 3,849, of which 1,913 represented commercial aircraft, the total showing an increase of 83 per cent. on the previous month's figure. During May, 627 passengers cleared customs, and the customs officer handled 72 commercial and 88 private aircraft.
Details of the internalservice traffic. are as follow:—
Jersey Airways," Ltd., carried 665 passengers from Heston to Jersey, Spartan Air Lines, Ltd., 316 passengers, and Portsmouth, Southsea and Isle of Wight Aviation, Ltd., 101. persons from Heston to the Isle of Wight. On the Heston-Croydon shuttle service, Inner Circle Air Lines carried 187 persons. North Eastern Airways, Ltd., conveyed 14-3 persons on the Heston-Leeds Newcastle Edinburgh line, whilst 'United Airways, Ltd., handled 150 persons on the Blackpool service.
FREIGHT AND PASSENGER SERVICE TO SCILLY ISLES?
WHEN we discussed in The Commercial Motor, two or three years ago, the struggle which road-transport companies were putting up, on the merits of their service, to retain the traffic in spring flowers from the Isles of Scilly, via Penzance, to the London, Midland and Lancashire markets, we referred to the possibilities of air. transport for this business.
Sir Alan Cobham, whose company, Cobham Air Routes, Ltd., operates Airspeed Envoys between London, Bournemouth and Guernsey, has been negotiating with the Duchy of Corn-. wall regarding an air service to Scilly. A landing-ground site on St. Mary's above the town has been inspected by the Air Ministry, and is to be prepared if agreement be reached. It will be big enough for the multi-engined aeroplanes which Sir Alan wishes to use Besides the spring flower trade, there is heavy tourist traffic, in the summer months, between Penzance and Scilly, now carried by a stearriShip, the Scillonian," .which takes about four hours. The islands have a nautical wireless station which may be able,to work with aeroplanes.