Small Radio Set for Specialized Vehicle Use
21st June 1935
Page 44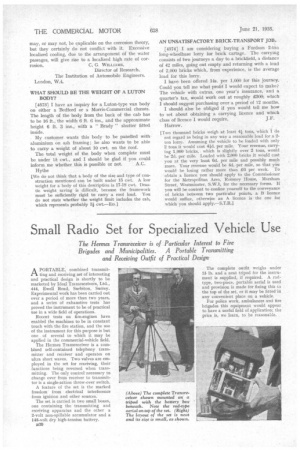 Page 44, 21st June 1935 —
Small Radio Set for Specialized Vehicle Use
Close
A PORTABLE, combined transmitting and receiving set of interesting and practical design is shortly to be marketed by Ideal Transreeeivers, Ltd., 444, Ewell Road, Surbiton, Surrey_ Experimental work has been carried out over a period of more than two years, and a series of exhaustive tests has proved the instrument to be of practical use in a wide field of operations.
Recent tests on fire-engines have enabled the machines to be in constant touch with the fire station, and the use of the instrument for this purpose is but one of several to which it may be applied in the commercial-vehicle field.
The Hermes Transreceiver is a combined self-contained telephony trans-. mitter and receiver and operates on ultra short waves. Two valves are employed in the set for receiving, their functions being reversed when transmitting. The only contranecessary to change over from receiver to transmitter is a single-action throw-over switch.
A feature of the set is the marked freedom from electrical interference • from ignition and other sources.
The set is carried in two small boxes, one containing the transmitting and receiving apparatus and the other a 2-volt non-spillable accumulator and a 145-volt dry high-tension battery.
The complete outfit weighs under 15 lb. and a neat tripod for the instrument is supplied, if required. A rodtype, two-piece, portable aerial is used and provision is made for fixing this to the top of the set, or it may be fitted in any convenient place on a vehicle.
For police work, ambulances and fire brigades this equipment would appear to have a useful field of application: the price is, we learn, to be reasonable.