A New Entrant to the Light tractor Field
21st June 1935
Page 41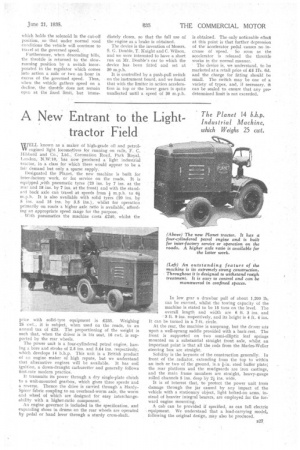 Page 41, 21st June 1935 —
A New Entrant to the Light tractor Field
Close
WWELL known as a maker of high-grade oil and petrolW engined light locomotives for running on rails, F. C. Hibberd and Co., Ltd., Coronation Road, Park Royal, London, N.W:10, has now prodtc.ed a' light industrial tractor, in a class for which there would appear to be a fair demand but only a sparse supply.
Designated the Planet, the new machine is built for inter-factory work, or for service •on the roads. It is equipped with pneumatic tyres (23 ins. by 7 ins, at the rear and 18 ins. by 7 ins, at the front) and with the standard back axle can travel at speeds from * m.p.h. to 6* m.p.h. It is also available with solid tyres (20 ins. by 5 ins, and 15 ins. by 3.5 ins.), whilst for operation primarily on roads a higher axle ratio is available, affording an appropriate speed range for the purpose.
With pneumatics the machine costs £240, whilst the price with solid-tyre equipment is £235. Weighing 25 cwt., it is subject, when used on the roads, to an annual tax of £25. The proportioning of the weight is such that, when the driver is in his seat, 16 cwt, is supported by the rear wheels.
The power unit is a four-cylindered petrol engine, having a bore and stroke of 2.5 ins. and 3.64 ins, respectively, which develops 14 b.h.p. This unit is a British product of an engine maker of high repute, but we understand that alternative engines will be available. It has coil ignition, a down-draught carburetter and generally follows first-rate modern practice.
It transmits its power through a dry single-plate clutch to a unit-mounted gearbox, which gives three speeds and
reverle. Thence the drive is carried through a HardySpicer fabric coupling to an overhead-worm axle, the worm and wheel of which are designed for easy interchange
ability with. a higher-ratio component. •
Ark engine governor, is included in the specification, and expanding shoes in drums on the rear wheels are operated by pedal or hand lever through a sturdy cross-shaft. In low gear a drawbar pull of about 1,200 lb. can be exerted, whilst the towing capacity of the machine is stated to be 15 tons on the level. The overall length and width are 6 ft. 3 ins. and • 3 ft. 9 ins, respectively, and its height is 4 ft. 4 ins. It can be turned in a 7-ft. circle.
At the rear, the machine is unsprung, but the driver sits upon a well-sprung saddle provided with a back-rest. The front is supported on two semi-elliptic leaf springs mounted on a substantial straight front axle, whilst an important point is that all the rods from the Marles-Weller steering box are straight.
Solidity is the keynote of the construction generally. In front of the radiator, extending from the top to within an inch or two of the ground, is .a 1-in. steel buffer plate; the rear platform and the mudguards are iron castings, and the main frame members are straight, heavy-gauge rolled channels 5 ins. deep by 2 ins. wide.
It is of interest that, to protect the power unit from damage through the jar caused by any impact of the vehicle with a stationary object, light bolted-on arms, instead of heavier integral bearers, are employed for the for.' ward engine mounting.
A cab can be provided if specified, as can full electric equipment. We understand that a load-carrying model, following the original design, may also be produced.