Rates Stabilization Impeded
21st June 1935
Page 35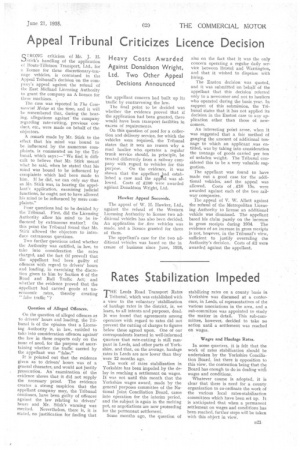 Page 35, 21st June 1935 —
Rates Stabilization Impeded
Close
HE Leeds Road Transport Rates 1 Tribunal, which was established with a view to the voluntary 'stabilization of haulage rates in the district, is, we learn, to all intents and purposes, dead. It was found that agreements among operators with regard to rates did not prevent the cutting of charges to figures below those agreed upon. One of our correspondents learned in well-informed quarters that rate-cutting is still rampant in Leeds, and other parts of Yorkshire, and that, on the average, haulage rates in Leeds are now lower than they were 12 months ago. ,
The work of rates stabilization in Yorkshire has been impeded by the delay in reaching a settlement on wages. It was not until this month that the Yorkshire wages award, made by the general purposes committee of the National Joint Conciliation Board, came into operation for the interim period, and the subject is again in the melting pot, as negotiations are now proceeding for the permanent settlement.
Some months ago, the question of stabilizing rates on a county basis in Yorkshire was discussed at a conference, in Leeds, of representatives of the various associations in the area, and a sub-committee was appointed to study the matter in detail. This sub-committee, however, decided to take no action until a settlement was reached on wages.
Wages and Haulage Rates.
In some quarters, it is felt that the work of rates stabilization should be undertaken by the Yorkshire Conciliation Board, but there is opposition to this view, the contention being that the Board has enough to do in dealing wits wages and conditions.
Whatever course is adopted, it is clear that there is need for a county organization to co-ordinate the work of the various local rates-stabilization committees which have been set up. It is anticipated that when a permanent settlement on wages and conditions has been reached, further steps will be taken with this object in view.